Conclusion of Gana Balol Latrine Project – Senegal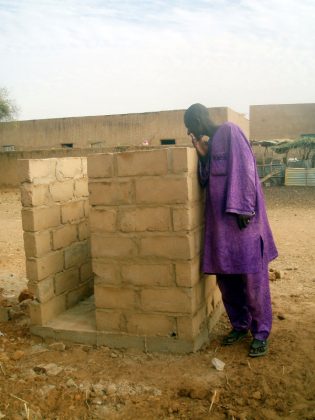 This project has been completed under the direction of Peace Corps Volunteer Camille Bevans. To read about the beginning of the project, CLICK HERE.
The project was to build 5 cement-lined latrines with attached septic tanks in Gana Balol.
Camille reports:
Two problems arose which led to us only being able to complete 4 latrines and delayed completion.

First, the mason miscalculated the amount of cement that would be needed. He calculated money for cement, but only to make the bricks and not to mortar them together.

Secondly, it took us four and a half months to complete the project. This resulted from the mason being paid up front. This type of problem will be avoided in the future by transferring money to the treasurer at a meeting attended by the entire village so as to hold the mason accountable.

Otherwise, this project was a success! The chief of the village was given the first latrine out of respect. Then three very large compounds were lucky enough to win the latrine lottery and now have very nice latrines. These families all send their sincere thanks and the village really appreciates everything you have done! It is their hope that we will continue our work and get full latrine coverage for our village.
We wish to thank Camille for completing the project and The Soneva SLOW LIFE Trust for providing the funding.