Conclusion of El Volcan Water Project – El Salvador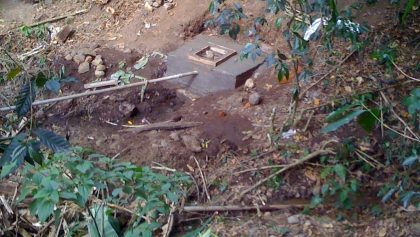 This project has been completed under the direction of Peace Corps Volunteer Karl Mollohan. To read about the beginning of the project, CLICK HERE.
The project was to build a new tank for the water system, repair the old tank to be used as a reserve, repair the piping system, and add 10 new families to the system.
Karl reports:
With the funding received from Appropriate Projects, members of the community of El Volcan were able to drastically better the water system of the community.

Due to heavy rainfalls and small landslides the water system of El Volcan is continually stressed due to its environmental impacts. With the funding, the water committee was able to buy materials to fix the spring's water retainer, various valves, and over 200 meters of PVC tubing, allowing members of the community easier access and more reliable drinking water.

The work projected unity throughout the community as parents of students also contributed to the work process. Over twenty five days were contributed to the reparations, and new ground work.

Pipes were cleaned and laid down, valves reconstructed and installed, and bags of sand, cement, and bricks were hauled through the mountainous coffee fincas to accomplish the work.

"The work would never have been possible without the help from Appropriate Projects, thank you, thank you," said Rudolfo Alvarez, the President of the Water Committee."

Although the project was held back by rains and the danger of land slides, work slowly progressed and brought a more reliable source of water to two schools with over a hundred and fifty students in each as well as 28 families consisting of close to 150 people.

The water is cleaner than ever. The students do not have to go to the spring a few hundred yards away to retrieve water, and families are smiling because they have fresh water coming to their houses on a regular basis.

Thank you Six Senses Resorts & Spas for your support from all of us here in El Volcan.
We, in turn, wish to thank Karl for completing this great project, and again thank The Soneva SLOW LIFE Trust for providing the funding.