Conclusion of Community Filter Project – Bolivia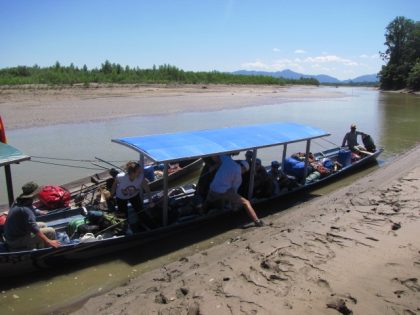 This project has been completed under the direction of Returned Peace Corps Volunteer (RPCV) Gina Collignon, with the help of her co-instructors Tim and Brett. To read about the start of this project, CLICK HERE.
This is our second bio-sand filter project in the Rurrenabaque area of Bolivia, and our third project directed by an RPCV.
Gina reports:
The biofilter service-learning project was a complete success. The project began with a day and a half in town constructing filters–buying cement, pouring molds, cleaning sand, painting, etc.

We then traveled with a team of 4 people from the Rio Beni Health Project to the tiny town of Charque (population about 80, primarily Mozaten) and installed the biofilters.

Each family received information on how to use and care for the filter. The local school teacher is in charge of working with the families to ensure that they receive the information and support that they as they transition towards filtering water before consumption.

Also as part of the project, we had the opportunity to sit down with community members and talk about water issues in town and have a cultural interchange.

The students have all expressed great satisfaction with the work that we did (despite the knee deep mud that some had to traverse) and feel happy knowing that the people of Charque will have a source of clean water. Likewise, community members of Charque expressed their gratitude for our collaboration.

Thank you again for your support of this important project.
Funds for this project were provided through the generosity of The Soneva SLOW LIFE Trust.