Conclusion of Chervonuy Promin Secondary School Bathroom Project – Ukraine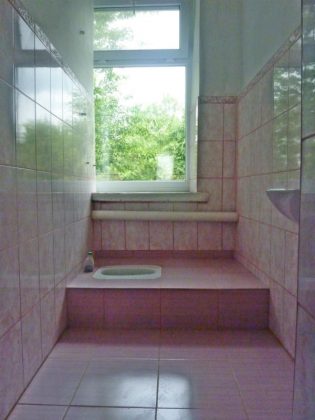 This project has been completed under the direction of Peace Corps Volunteer Jessica Jackman. To read about the beginning of the project, CLICK HERE.
The project was to install an indoor toilet and sink at the school for the use of the students, teachers, and staff.
Jessica reports:
The school completed building the indoor bathrooms on June 1st, 2011.
The school director, two teachers, and I went and purchased most of the supplies for the project several weeks before the completion of the project.

The school contributed $376.81 to make the project successful. Several people in the community donated their time to build the room for two bathrooms and install the tile, toilets, and sinks. We were able to build two separate bathrooms (one for boys and one for girls) in the primary school.

The community, particularly the kids and teachers, were very excited and grateful for the funds. The Director of the school had the following to say about the project: "I am extremely touched that people that live so far away would donate to help this little village in Ukraine".

Several of the kids commented on how excited they were to use a real toilet in the village and not have to go outside.

Overall, the project went very well and the community was extremely grateful. At least 100 people will benefit from this project and more in the future as the school continues to receive more kids. Thank you for all those who donated and truly positively impacted the lives of the people in this community!
We again wish to thank The Soneva SLOW LIFE Trust and Jessica's friends and family for providing the funding for this project.