Conclusion of Bane Latrine Project – Senegal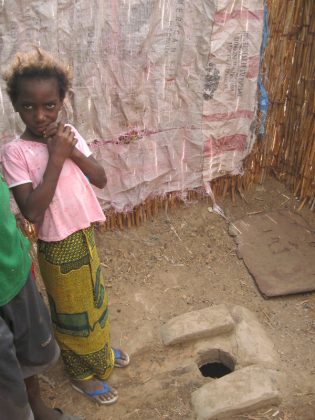 This project has been successfully completed, under the direction of Peace Corps Volunteer Natalie Schmidt. To see the history of this project CLICK HERE.
The project was designed to build eighteen simple pit latrines in compounds throughout the village. In actuality, 17 were built within the project budget, still a truly remarkable accomplishment.
Natalie reports:
They turned out beautifully, with individual touches added by each compound.

We bought all our supplies from the weekly market town, Passy, and individuals transported their cement, iron, etc., with horse carts from there.

After that everyone dug their pits and we set about making the cement covers. Once the covers were dried, we got groups of men together to lift and place them over the pits.

From there, individual compounds either surrounded their latrines with millet stalk fences or in some cases little huts for privacy.

Families were taught about the hand washing in and latrine maintenance.
Natalie further reported on the reactions of the community:
Everyone is so excited that they no longer have to go out to the forest, and they are so grateful for the help they received.

Thank you all so much for this opportunity to create a healthier place to live for so many people.
We are grateful to The Soneva SLOW LIFE Trust for providing the funding for this successful project.