Conclusion of Banda Primary School Water Project – Rwanda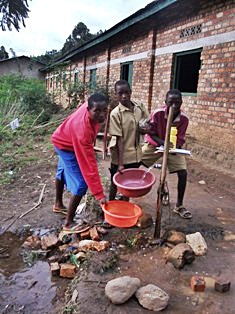 This project has been completed under the direction of Peace Corps Volunteer Sarah Ring. To read about the beginning of the project, CLICK HERE.
The project was to provide potable water for the Banda Primary School.
Sarah reports:
The primary school now has unlimited drinking water that NEVER shuts off for them since it comes from the rainforest's water. It is for 1,600 students, and they are very happy!

The parents and community members all came together to dig the 680-meter trench to lay the piping. It took them a long time since we have very rocky soil.

It was a wonderful experience for us to witness our village really putting effort in for something that wouldn't benefit themselves but their children at school.

We are thankful Water Charity was available to make this happen and look forward to working with you in the future.
We, in turn, wish to thank Sarah for completing this project and The Soneva SLOW LIFE Trust for providing the funding.