Conclusion of Baan Huey Tai School Bathroom Project – Thailand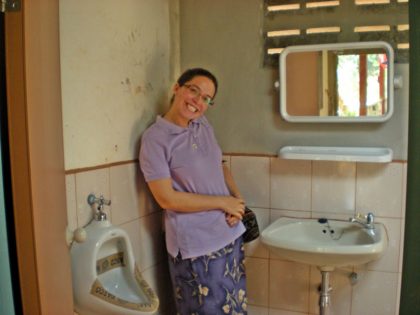 This project has been completed under the direction of Peace Corps Volunteer Nancymarie Mattner. To read about the beginning of the project, CLICK HERE.
The project was to build a bathroom to serve Baan Huey Tai School.
Nancymarie reports:
The bathroom at Baan Huey Tai School has officially been completed.

The construction began February 3rd. The construction took place next to the nurse's room. They first began by digging the sewage holes for the piping. Also the holes for the pillar supports were dug and pillars were put in place for the corners of the room.

The roof was added over the support beams and a skylight was added to give the bathroom more light. The walls were constructed of bricks and concrete bricks. The ventilation slats and door were inserted and then cement was spread across the brick to even out the surface. A cement floor was put down.

The sink, urinal, toilet and shower fixture were added to the bathroom. To finish off the project, the tile flooring was put down. Construction finished on March 7th.

The bathroom consists of a urinal, a squat toilet, as well as a sink that is inside the bathroom. There is also a shower facility, which will come into use when there are overnight gatherings at the school.

All of the faculty were excited during the whole process. They kept looking at the construction and smiling. Whenever supervisors come to the school, the principal takes them straight to the bathroom and shows what was built.

Thank you so much for your assistance!
We in turn wish to thank Nancymarie for completing the project, and again extend our thanks to The Soneva SLOW LIFE Trust and the friends and family of Nancymarie for providing the funding.