Conclusion of Area Natural Protegida La Magdalena Composting Latrine Project – El Salvador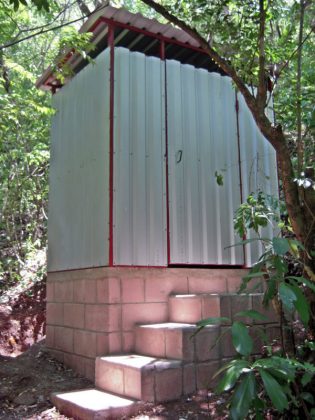 This project has been completed under the direction of Peace Corps Volunteer Max Greenblum. To read about the beginning of the project, CLICK HERE.
The project was to build a composting latrine to serve the camping area of the Area Natural Protegida La Magdalena.
Max reports:
With the construction of the environmentally-friendly latrine, the protected area's park rangers were also able to create a camping area, which will be inaugurated in the coming weeks.

While a few freak rain storms, which very unexpectedly arrived in the middle of the dry season, occasionally slowed construction work a little, overall, I am pleased to inform you that everything went according to plan. The latrine has two separate receptacles, which will be rotated annually (while the other receptacle is composting), not only providing the park with a contamination-free latrine, but also organic compost for their tree nursery.

The park's staff and management is very excited about beginning to use the composting latrine, which is a new technology for them, and are hoping to use their model to raise awareness of the option of composting latrines to members of surrounding communities.

Maritza Rodriguez, one of the directors of Natural Protected Area La Magdalena, described the composting latrine as, "a key element in our development of the park as it will allow us to begin to better host overnight guests—students, tourists, and volunteers—but also allow us to avoid contaminating the river" (translated from Spanish).

Once again, from me and on behalf of my counterparts at the Protected Natural Area La Magdalena, thank you very much for providing the funds for the project. The composting latrine is a tremendous step in the development of both the protected area and environmental preservation and education in the area surrounding the park.
We again wish to thank The Soneva SLOW LIFE Trust for providing the funding for this project.