Colombia Lifewater Project – Estacion Villa – Colombia
This Colombia Lifewater Project is made possible through the partnership of Water Charity, the National Peace Corps Association, and Superstar WC Volunteer RPCV Jeremy Mak.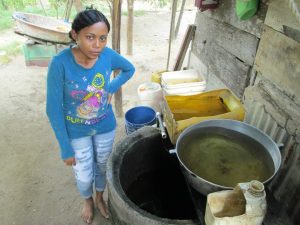 Location
Estacion Villa, ColombiaCommunity Description
Estacion Villa, a small underserved community in Northeast Colombia located at N 10°17,794' W 74°11.444'. The population is comprised of approximately 375 people from an estimated 45 households that straddle an unpaved dirt road located 35 kilometers from Fundacion Magdalena, the nearest town. Surrounding the village are ranches, but most of the families in the village itself are of modest means and extremely poor. The area was also terrorized and deeply affected by a 10-year period of violent occupation and abusive control by FARC guerrillas.
Signs of poverty are apparent in many forms in Estacion Villa. Several houses are of basic stick framing and mud houses, and some sleep as many as 8 to a room. Secondly, while there is electricity, most houses can afford only very dim ambient light and there is no running water or plumbing in the conventional sense. The majority of households rely on open wood fires for cooking. In terms of employment, several families are landless and struggle to find work. While there is a small primary school, there is little else in terms of public services, programs, or safety nets. Some households resort to temporary jobs on surrounding ranches or migrant work in places like Barranquilla or Fundacion.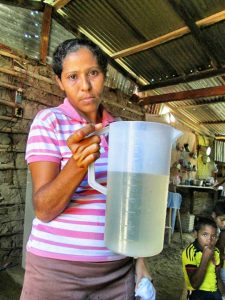 Problem Addressed
One of the village's biggest problems is water—both in terms of access and quality. Villagers drink contaminated rainwater, but when it is depleted, they rely on consuming unfiltered pond water. Rainwater is collected off corrugated metal roofs and stored in makeshift cisterns and storage containers, mostly located outside of the home. The government delivered 1,000-liter water tanks to households recently, but without proper training on how to install the tanks with fittings or how to correctly place, use, and maintain them, the tanks either are not being optimally utilized or not being used at all.
Moreover, due to their rudimentary design, homemade rainwater collection systems using these tanks and other containers lack "first flush" mechanisms that remove roof contaminants like dust, leaves, and bird droppings. Many water storage containers and tanks are uncovered and exposed to the elements, insects, and animals, further compromising the purity of rainwater with visible pollutants.
In 2006, the government dug an unlined catchment pond (the local names for pond arejaguey and represa) beside the village and installed a gravity-fed water system that delivers water to each house along the main road. The pond has a diameter of about 100 yards, but the depth and water catchment capacity is unknown. The pond–full of microorganisms, fish, and aquatic plants—is unfit for direct consumption. Cattle and roaming animals freely access it, and run-off from cow tracks drain into the pond.
An electric pump draws water up to an uncovered Ferro-cement tank. A local told us that it holds 45,000 liters, but our estimate puts its max capacity closer to 10,000 liters, which is then gravity-fed to houses in the street below. The storage capacity of the central tank is relatively low compared to the approximately 45 houses it serves. In comparison, most homes have one or two 1,000 liter tanks.
The water system itself provides no filtration or disinfection/purification, and house pipes have no faucets, but rather are open-ended thin flexible hoses crudely connected to larger PVC feeder mains. The system's pump is turned on every few days without pre-indication of time, and households must store water whenever it comes. The water that reaches homes has a brownish color to it, and sediment and organic bits of material are dispensed as well.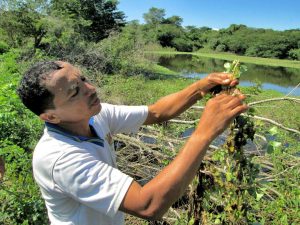 At focus groups held with female heads of households, all mothers stated that they didn't boil their water or otherwise filter it first, as no health authority has ever advised them to do so. (Secondly, boiling water would be incredibly labor-intensive for those needing to collect firewood, or exorbitantly expensive for those households using gas stoves). Unfortunately, skin infections, hives, and stomach ailments attributed to the water are a widespread problem, which the community has largely been relegated to accepting as a fact of life.
When the jaguey dries up (as it does seasonally), the village relies on trucked water that is delivered at no cost by the government. This water comes from nearby towns of San Angel, Algarobo, Santa Rosa, and Fundacion, but villagers complain of the salty taste. They can buy more palatable river water, but every 40 liters cost 2,000 Colombian pesos (approximately USD 65 cents). Resorting to dirty pond water or trucked and bagged drinking water is becoming more of a constant reality as rains decline and when the jaguey dries. Especially over the past few months, a painful rain shortage has been felt.
Project Description
This project aims to provide all families in Estacion Villa with access to Sawyer Point One household filters, along with the training required to install, use, and maintain them. Each filter is long-lasting, incredibly durable, and extremely effective at removing bacteria down to 0.1 microns—the same ones that cause dysentery, diarrhea, E. Coli, cholera, and typhoid. With proper care, they may never need to be replaced. You can see more information on these filters HERE.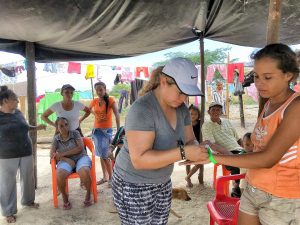 Following a house-to-house verification survey and a mandatory two-hour long interactive training, we aim to distribute the filters along with hermetic water containers, solar lights, and mosquito nets.
Community Organization
Columbia Lifewater Project
Project Impact
It is anticipated that this project will serve up to an estimated 375 people with a durable solution to clean water for improved health outcomes.
RPCV Directing Project
Jeremy Mak
Monitoring and Maintenance
​While the recipients of the filters, solar lamps, and mosquito nets will be responsible for their maintenance, Jeremy and his fiancé will be in contact with and check upon them. As the villagers will be trained in proper upkeep (backflushing etc.) for their filters, it should be relatively problem-free for many, many years to come.
Comments
A comprehensive collection of pre-project photos can be found HERE.
This project is being led by Gambia RPCV Jeremy Mak, who has successfully completed several water and sanitation projects with Water Charity support over the past 6 years, including Sawyer filter distribution projects in The Gambia (2015), and Uganda (2016). You can see previous examples of his Water Charity projects HERE (Gambia) and HERE (Uganda). This is Jeremy's first project for Water Charity in Columbia. All 30 or so pages worth of Jeremy Mak projects can be perused by following this link: https://watercharity.com/Jeremy-Mak.
This project has been funded through the generosity of the Paul Bechtner Foundation.
This project has been completed. To read about the conclusion, CLICK HERE.