Clean Water For Schools Initiative – Fiji
Clean Water For Schools In Fiji
This project is made possible through the partnership of WATER CHARITY and the NATIONAL PEACE CORPS ASSOCIATION.

This initiative has been completed!  Read about the #Conclusion by scrolling down & watch the video by clicking the link.
LOCATION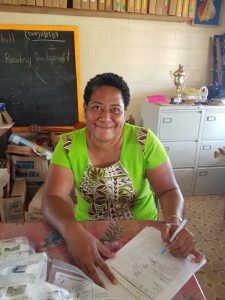 The Ba Subdivision is located in the Ba District of the Western Division of Fiji.
COMMUNITY
Much of the Ba District is rural. There are over 56,000 people in the District.  Being a rural district in Fiji, much of the work in the area consists of sugar cane, and most working members of the families will be found working in the sugar cane industry.
Within the Ba Subdivision, there are 9 secondary schools with approximately 22 staff/faculty and 20 classrooms. These schools serve over 3,600 students and 198 faculty on a daily basis.
PROBLEM STATEMENT
In any given month approximately 1,200 secondary students miss school because they are sick from dirty water. As these children fall behind, their education is further and further delayed.
PROPOSED SOLUTION
In order to help reduce the impact of sickness from water-borne illness, each classroom receives two 20-liter buckets (one for dirty water and one for clean water) and a Sawyer PointONE™ Water Filter. Along with each classroom receiving a system, we send a system home with each staff/faculty. We have found that this increases the use and maintenance of the systems in the classrooms as well as helps keep the staff/faculty healthy and missing fewer days of work.
At each school, our Fiji team will host a training time for the staff/faculty to show them how to use and maintain the system. The training takes approximately 30 minutes and consists of hands-on learning and demonstrating proficiency. At the end of the training, all of the systems will be assembled and ready for use.
PROJECT IMPACT
378 clean water systems
Approximately 7,000 people will directly benefit from this project if you count all the children, teachers, workers and guests to the schools.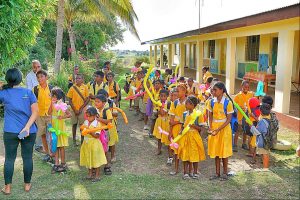 COMMENTS
This project is part of Water Charity's worldwide Filters For Life Initiative, which involves giving people access to the life-saving Sawyer Hollow Membrane Filters.  In this particular project, WC has partnered with a local Fiji-oriented NGO called Give Clean Water (givecleanwater.org) to help achieve the distribution.  It is the intention to provide water systems to each school and household that does not have access to treated water in the entire district.
---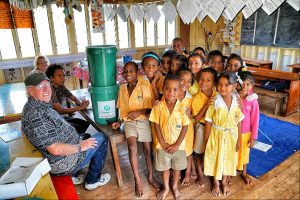 SUCCESSFUL CONCLUSION OF CLEAN WATER INITIATIVE
As it turned out, the original secondary schools targeted for filters were placed on a government water source, and while it is possible they may still need filters, it was not prudent to move forward with those schools at the time.  Meanwhile, the primary schools in the area were in desperate need, so we shifted the project to serve those schools and their teachers.  Waterborne illness is even harder on younger children, so this was not a downgrade in the project and didn't cause any delay or waste…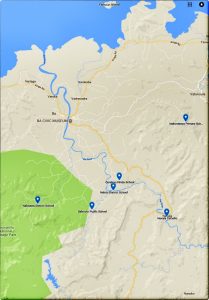 if anything, it only made the initiative stronger by focusing on children for whom poor water quality was an even greater concern, and whose water quality was even lower, to begin with.
1.Nalotaw District School – Water Source: Catchment
2.Naloto District School – Water Source: Catchment
3.Balevuto Public School – Water Source: Bore Hole & Catchment
4.Nakoroboya Primary School – Water Source: Catchment
5.Qerelevu Hindu School – Water Source: Bore Hole & Catchment
6.Navala Catholic – Water Source: Catchment
The Ba District receives some of the highest annual rainfall amounts in all of Fiji.  Over 230 inches of rain can fall in some areas.  Due to the heavy rains, many of the villages and settlements in the Ba use some form of catchment whether that be from rain gutters, or local streams and rivers being dammed.
Each of these schools uses a catchment, while Qerelevu Hindu School and Balevuto Public School also have access to a borehole for their water source.
By installing clean water systems in these schools, the school children can now drink bacteria-free water. In addition to the children, all of the teachers and 6 school directors not only have clean drinking water at school but were provided with filters for their use at home or in their quarters!  Furthermore, we were able to give out filters for more than 150 households with the most serious issues (i.e. children frequently missing school due to illness, etc.).
By providing clean water systems, children will be able to attend school on a regular basis as well as the teachers and directors.
It is our hope to finish the rest of the schools in the Ba District in 2018. In order to reach this goal, we will be searching for financial partners to donate to this effort.  Thanks again to the Paul Bechtner Foundation for providing the funds for this effort.
Please click the Donate button below to allow us to continue this great work.