Chitunda School Pump Project – Malawi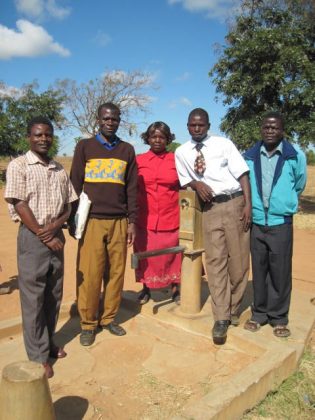 Location
Katima Village, Ntchisi District, Malawi
Community Description
Katima Village is a small rural village in central Malawi. The people are subsistence farmers who grow their food needs and raise some tobacco and soya for their cash needs.
Chitunda Primary School, located in Katima Village, has 625 children who attend from the surrounding villages.
A hand pump borehole well, located on the grounds of Chitunda School, was rendered non-functional 2 years ago when some of the main parts of the pump were stolen. The school has had no money for repairs.
The school is forced to draw water from an unprotected shallow well about 1 mile away.
Project Description
This project is to repair the well on the school grounds.
The District Borehole Technician has done an assessment and will supervise the repair.
Project funds will be used for the parts and for the transport of the supplies.
The school will build handwashing facilities at the outdoor toilets.
With the resumed functionality of the well, the Student Committee for Safe Water club will teach safe water practices and sanitation to the younger students.
Project Impact
730 people will benefit from the project, including 625 students of Chitunda Primary School and 105 people (15 families) in the surrounding area.
Peace Corps Volunteer Directing Project
Judy Summers
Comments
This project provides a simple remedy to a deplorable situation, lack of water at a primary school. It will have a great impact on hygiene and sanitation, and motivate and enable the school and the community to undertake additional development and educational projects.
This is the 5th project by Peace Corps Volunteer Judy Summers. To read about the others, use the Search box above, and type in "Summers".
Dollar Amount of Project
$330.00
Donations Collected to Date
$330.00
Dollar Amount Needed
$0.00 – This project has now been fully funded, through the generosity of The Soneva SLOW LIFE Trust as a part of their Clean Water Projects initiative.
We encourage others to continue to donate using the Donate button below, and we will notify Peace Corps Volunteer Judy Summers of your donation. Additional funds will be used to fund the next project by Judy and/or those of her counterpart PCVs in Malawi.
This project has been completed. To read about the conclusion of this project, CLICK HERE.