Ching'amba Water Tank Project – Malawi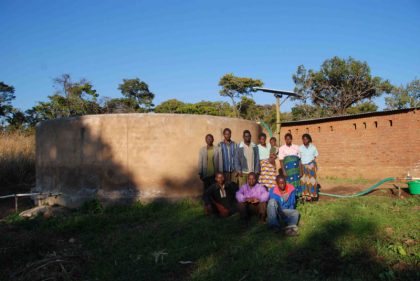 Location
Ching'amba, Ntchisi District, Malawi
Community Description
Ching'amba village is a rural community located in the central region of Malawi, about 60 km west of Lake Malawi. It is bordered by a wildlife reserve.
The community's income comes mostly from the sale of tobacco and soy. Corn is also produced. During the dry season, people who are able to irrigate have small gardens where typically tomatoes and mustard are grown.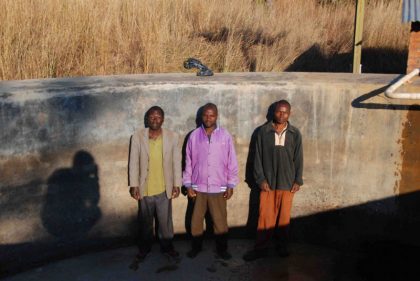 The community has a cylindrical irrigation tank that was donated by an evangelical organization. It has been used to irrigate a community garden.
The tank is made of cement and bricks, 3.5 meters in diameter and 2 meters in depth. It is filled with water by a solar-powered pump.
When the tank was built, the foundation did not settle properly, and leaks developed after one season.
Project Description
This project is to repair the water storage tank, and restore it to function for the use of the villagers.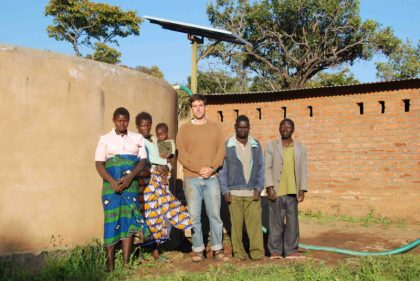 The tank will be repaired by adding a concrete layer. Project funds will be used to pay for a contractor and two skilled laborers. In addition, they will pay for the purchase of ten bags of cement.
Quarry stones (1 ton) and sand (1/2 ton) will be provided by the community. The community has already raised $60 dollars to fund the project.
Project Impact
There are 37 plots of land 10m x 25m in size. Each plot is run by one family from four different villages. A total of 180 people will be served by this project.
Peace Corps Volunteer Directing Project
Tomas Pickering
Comments
This project will allow for the irrigation of community gardens which are used during the dry season to provide an important source of food and income.
This project follows up on the Gome Borehole Project – Malawi previously completed by PCV Tomas Pickering.
Dollar Amount of Project
$170.00
Donations Collected to Date
$170.00
Dollar Amount Needed
$0.00 – This project has now been fully funded, through the generosity of Marcia Wijngaarden, of Rotterdam, Netherlands.
We encourage others to continue to donate using the Donate button below, and we will notify Peace Corps Volunteer Tomas Pickering of your donation. Additional funds will be used to fund the next project by Tomas and/or those of his counterpart PCVs in Malawi.
This project has been finished. To read about the conclusion of the project, CLICK HERE.