Call To Nature Permaculture Tree Planting Project II – Ghana
​
This project is to raise, plant, and maintain 20,000 trees near Accra, Ghana.  It is made possible by the partnership of WATER CHARITY & the NATIONAL PEACE CORPS ASSOCIATION.
This project has been completed.  To read about the conclusion, CLICK HERE.
Project Location: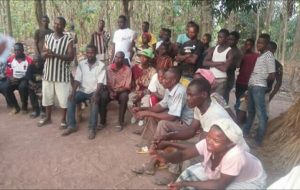 This project will be implemented in an area that stretches from Pokromu (village) to Gyankamah (village), all in the eastern part of Ghana which shares a border with the capital city of Accra.
Community Description:
Trees will be planted along the APAPOMU river that has its source from Pokromu, runs through Gyankamah, and finally into the ocean in Accra. This location was identified through a search to determine communities that face huge water challenges during the dry season in the country. After the search, it was determined that the high-level drying of rivers was a result of the lack of trees to provide a heavy canopy to prevent evaporation during the hot and dry seasons.
Description of Problem:
The community is feeling the impact of drought, caused by a changing climate.  To remediate the effects, and plan for the future, an increase in the number of trees is required, with a concentration on placement to maximize benefit.
Project Description:
The project is to raise 20,000 Cedrela tree seedlings and plant them along the Apapomu river bank.
The Cedrela tree was chosen for this project because of the following: fast-growing, evergreen, resists drought, heavy canopy formation, food and medicinal benefits, and many more.
The trees are to be planted at 10 feet apart on both sides of the river to allow a heavy canopy formation in a short period.  This will help prevent evaporation during the hot dry weather periods.
The project will be done as a partnership involving schools, churches, and the general public coming together out of mutual self-interest to achieve a successful future outcome in the region. The project will bring together about 500 participants during the planting period, with 50 people working at a time over a 10 day period.
Project funds will be spent on the following: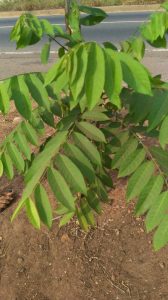 ° 200 bundles of poly bags
° 1 ton of manure
° Nursery set
° Seeds
° Transportation
° Feeding for 500 people
° One year monitoring and maintenance
The project will proceed as follows::
°Nursery establishment and nursing of seeds
°Nursery maintenance
°Distribution and planting
°Trees maintenance, monitoring, and evaluation
° Project hand over to communities/ government
Impact:
This project will benefit a population of about 4,800 living in the area.
Volunteer Directing Project
Solomon Amuzu, Founder and Director of Call to Nature Permaculture
Monitoring and Maintenance
After the planting, a selected team together with CTNP will monitor and maintain the trees for a period of years, thereafter handing the project over to the community and the government for further maintenance.
Comments
The trees will provide numerous benefits such as:
° Erosion control
° Provision of habitat for aquatic bodies
° Prevention of water and air pollution
° Increase energy conservation
° Food and medicinal benefits
° Result from this project will also serve as an educational resource for students and the local people.
Dollar Amount of Project
$4,950
Donations Collected to Date
$4,950
Dollar Amount Needed
$0 – This project has now been fully funded through the generosity of the Robert Victor Sager and Beatrice Mintz Sager Foundation.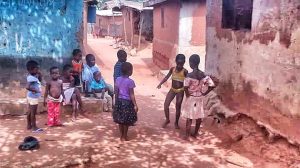 Conclusion of Call To Nature Permaculture Tree Planting Project II – Ghana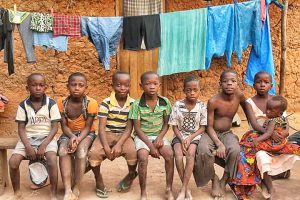 This project has been completed under the direction of Solomon Amuzu, Founder and Director of Call to Nature Permaculture. To read about the start of the project, CLICK HERE.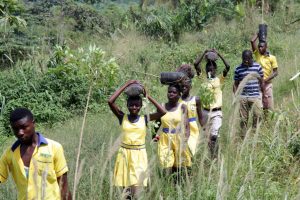 The project was designed to raise 20,000 Cedrela tree seedlings, and plant them along the Apapomu river bank.
Solomon reports:
Call To Nature Permaculture Ghana received a support from water charity to assist in raising and planting thousands of fast growing tree species to protect water ways (APAPOMU river) that has its source from Pokromu, runs through Gyankamah, and finally into the ocean in Accra.

In implementing such an educational and environmental impact project like this, CTNP involved local schools and communities throughout the project from sand bagging, seeding and planting. We made this successful one through great acceptance and support from our local partners Gyankama Methodist basic school, Kunkunuru basic school, De Best International school and sunshine Academy as well the village communities that the river travels through: Pokrom, Gyankama, Yaa taa and Asesreso.

After several meetings with school heads and chiefs, we came into an agreement that communal labor must be organized to clear the planting space along the river sides and planting holes are made by the elderly people whereas school kids carry trees and do the planting once transportation and distributions are done at various vantage point along the river ways.

Our plan was to do the tree planting in last June but upon receiving so much rain this year causing the river banks to flood we shifted the exercise to the 10th of September, 2017.

On the 8th of September, 2017 an announcement was made through local radio information center to remind the various villages about the project directed by Gyaase hene and Mmrante hene (local chiefs) of the various communities.

After the announcement, early in the morning the following day on the 9th of September, 2017 strong looking men gathered along the river side with sharp local made cutlasses and earth chisels, clearing and making the holes to enable the planting the following day (10th September) by school kids. A path and a planting distance of about ten feet were made on both sides of the river as specified by CTNP.

It was beautiful as kids planted and learned new things out of class as to how it is important to care about our environment and protecting water ways. School teachers were very happy to be joined by this great initiative. Before the planting CTNP trained six Agricultural science teachers from the various schools to have an idea about protecting water ways with trees where the knowledge gained passed on to school kids.

This project brought together about 505 school kids including teachers and in about 24 hours thousands of trees planted along the water ways.

We were also joined by another wonderful local NGO, "H2O Africa Care" an organization that runs water and sanitation program, was great to have them join us as it raised numerous comments that will improve upon our water protection in Ghana, Africa and the world.

After the planting, snacks and soft drinks were given to the kids to refresh and also to show an appreciation as it did put smiles on their faces.

Below are few comments raised as we carry on with the exercise:

1: We thank you for this environmental project.

2: Gyaase hene (chief) of Kunkunuru also applaud us for this work and stated that his doors are open for us to get them involve as we want in making the world better place for the future generations. He also advised CTNP to educate the kids about the important of venturing into Agriculture with the notion that farming is for the elderly, poor or the illiterate. Again, he made a request for more trees planted along the roads in the village. He also promised on behalf of the elders that, they will make sure the trees are well taken care of through communal labor effectively.

3: In the near future these trees will grow nicely to protect our river from drying up in the dry season.

4: This is good project to enhance our green club in the school.

5: The saddest comment that was raised by one of the chiefs is "Its rather unfortunate all of our lands have been sold out by forefathers before we were handed over power, CTNP deserves a land in this community for their great environmental program.

We report with happiness as this has been one of the best received project by our communities and as such we say a very big thank you to WATER CHARITY for supporting us to reach this higher height, we hope to be doing more and more in the near future.
We extend our thanks to Solomon for completing this excellent project and again thank the Robert Victor Sager and Beatrice Mintz Sager Foundation for providing the funding.