Boff Poupouye Latrine Project – Senegal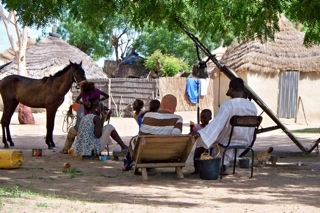 Location
Boff Poupouye, Fatick, Senegal
Community Description
Boff Poupouye is a small rural community located within the department of Fatick, 110 km east of the capital Dakar. The village consists of roughly 300 people during the dry season and upwards of 400 during the harvesting months.
The community has no electricity and relies on wells and limited spigot availability for both drinking and bathing water. The villagers are subsistence farmers relying on millet and peanuts as their main source of food and minimal income.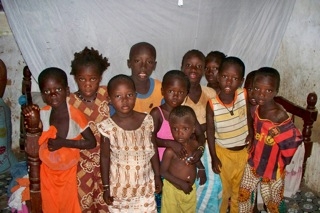 In the past community members, both old and young were forced to either travel into the "bush" in order to relieve themselves, or simply go in or next to their compound. The latter caused fecal matter to be tracked throughout the living area, thus contributing to the spread of illness and disease through oral-fecal contamination.
A prior Peace Corps latrine project took place during the last dry season in the same village, demonstrating the health and hygiene benefits of latrines and creating a desire for additional latrines for the village.
Project Description
This project consists of the construction of ten simple pit latrines spread throughout the village. Each latrine will consist of a hole in the ground 2 meters deep and 1 meter in diameter, covered with a reinforced cement platform.
The design allows for the moving of the cement platform to a newly dug hole when the pit is full.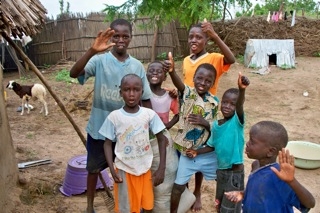 Funds will be used to purchase the supplies necessary for construction: cement, iron for reinforcing the cement, wood for the frames, and pipe for ventilation.
The villagers will be providing the labor of digging the holes and building the structures for privacy. They will also provide the sand and rocks to make the cement. Local masons will construct the concrete platforms.
With proper education and care, one cement platform should be able to last upwards of 10-15 years.
Project Impact
150 people will directly benefit from this project.
Peace Corps Volunteer Directing Project
Grant Rowland
Comments
This project arises out of a community's desire to improve public health in the community. It follows up on a prior project which demonstrated the value to be achieved by building latrines in the community.
The project uses appropriate technology for the seasonally variable population, and is built to be sustainable into the future.
Dollar Amount of Project
$500.00
Donations Collected to Date
$500.00
Dollar Amount Needed
$0.00 – This project has now been fully funded, through the generosity of The Soneva SLOW LIFE Trust as a part of their Clean Water Projects initiative.
We encourage others to continue to donate using the Donate button below, and we will notify Peace Corps Volunteer Grant Rowland of your donation. Additional funds will be used to fund the next project by Grant and/or those of his counterpart PCVs in Senegal.
This project has been finished. To read about the conclusion of the project, CLICK HERE.