Bang Phai Primary School Food Preparation and Washing Station Project – Thailand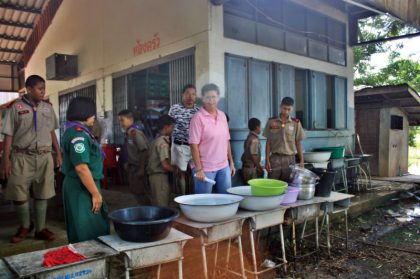 Location
Bang Phai, Bang Mul Nak, Phichit, Thailand
Community Description
Bang Phai is a small village of 1,900 people, located in the southern part of Northern Thailand, about 5 hours north of Bangkok.
The community is comprised mostly of rice field farmers and retired individuals who rely on their children to supplement their incomes. Most families are helping to raise their grandchildren, while their parents go to Bangkok or another larger city to work and send money home.
The school is only able to feed half of the children a free lunch. The kitchen workers cook and clean dishes in an outdoor facility. Water for cooking and cleaning has to be carried and placed in large pans or buckets which are placed on old desks or on the ground.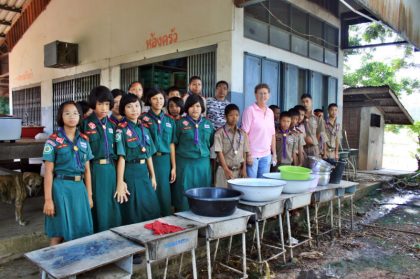 Project Description
This project is to build a food preparation area and washing station for the Bang Phai Primary School.
A water line will be run about 20 feet to the sanitary area to be available for cooking and washing dishes.
The new structure will be about 6 feet wide and contain 3 stainless steel sinks and an area for food preparation.
All labor will be provided by school parents and members of the community.
Project funds will be used for purchasing the sinks and materials, including pipe and fittings.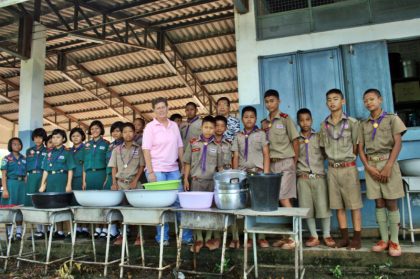 Project Impact
146 people will benefit from the project, including 135 students, 8 teachers, and 3 kitchen staffers.
Peace Corps Volunteer Directing Project
Sue Akins
Comments
This is an important project to enable the school to provide for the nutritional needs of the students. Food preparation and clean-up will be much more sanitary, thereby leading to improved student health.
Dollar Amount of Project
$500.00
Donations Collected to Date
$500.00
Dollar Amount Needed
$0.00 – This project has now been fully funded through the generosity of The Soneva SLOW LIFE Trust as a part of their Clean Water Projects initiative.
We encourage others to continue to donate using the Donate button below, and we will notify Sue of your donation. Additional funds will be used to fund the next project by the PCV and/or other projects in the country of service.
This project has been finished. To read about the conclusion of the project, CLICK HERE.