Ban Rai School Water Project – Thailand
Community Description
The community of Ban Rai is located in the province of Sukothai, which is the original capital of Thailand. The region is rich with history and contains ancient ruins of the Sukothai empire. The people of this region are proud of Sukhothai's history and celebrate it through festivals and visits to the historical parks.
Forty kilometers away from the historical park lies the community of Ban Rai. The majority of the income in Ban Rai is generated from farming, with over 80% of the land is dedicated to farms. There are a total of 3,616 people living in
Ban Rai. 735 people work as farmers, which is 80% of the people who are of working age.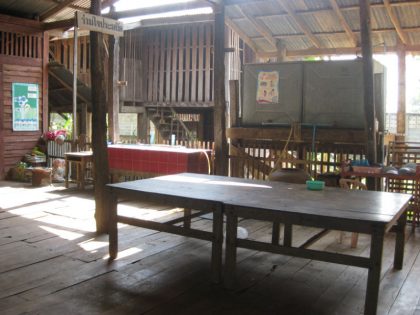 Farmers make a living from harvesting rice, tobacco and bananas. Within the community, there are two income generation groups. One group makes and sells cloth and the other makes and sells brooms. The average household income in Ban Rai is 41,828 baht a year, which converts to about $1,200 a year.
Local community resources include 4 schools, 2 temples, a daycare, a health station, a night clinic, a cloth weaving center, a post office, the Service Area Office, and a police station.
Ban Rai School was founded in 1946 and is the largest of three elementary schools in Ban Rai. The school consists of 12 teachers dedicated to teaching 232 students, ranging from ages 4-12.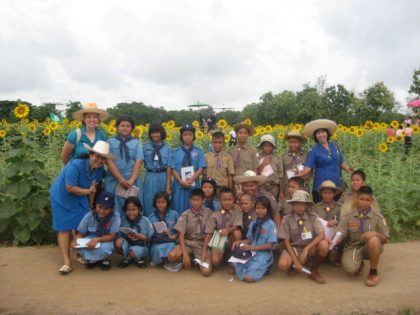 The water supply within the community is limited during the daytime and is often unavailable altogether. At these times, students do not have access to clean drinking water and must drink rainwater, which is often contaminated by bacteria in the water tanks and debris and pollutants in the atmosphere. Furthermore, there is insufficient water for cooking, cleaning, and use in the bathroom.
Project Description
This project is to purchase and install a water tank and water purification system for the Ban Rai School.
Project Impact
The 232 students and 12 teachers at Ban Rai School will be directly affected by the availability of clean drinking water.
Peace Corps Volunteer Directing Project
Kelsi George
Comments
This project will provide the school with a safe and secure source of water. The project arose from a need recognized by the director and teachers of the school. This assures that it will be used and maintained as a valuable school and community resource.
Dollar Amount of Project
$500.00
Donations Collected to Date
$500.00
Dollar Amount Needed
$0.00 – This project has been fully funded, through the generosity of The Soneva SLOW LIFE Trust as a part of their Clean Water Projects initiative.
We encourage others to continue to donate using the Donate button below, and we will notify Peace Corps Volunteer Kelsi George of your donation. Additional funds will be used to fund the next project by Kelsi and/or those of her counterpart PCVs in Thailand.
This project has been completed. To read about the conclusion of this project, CLICK HERE.