Bahía Honda Bathroom Project – Panama
Location
Bahía Honda, Bastimentos Island, Bocas del Toro, Panama
Community Description
The community of Bahia Honda is composed of approximately 250 indigenous Ngobe people, living in distinct homesteads. The Ngobe moved to the previously unoccupied bay on Bastimentos Island in 1972, when population pressures forced them to leave the mainland, which was rapidly growing into a tourist hotspot.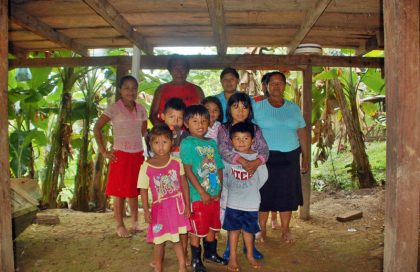 The new residents of Bahia Honda built simple wooden homes on the edge of the mangroves, many on stilts directly above the water. These families subsist mostly as fishermen, boat drivers, and construction workers, and live in extreme poverty.
Latrines cannot function in the wet mangrove environment and the residents cannot afford flushing toilet systems, so they go directly into the mangroves, polluting the ecosystem and harming the health of the residents. The community has agreed as a group that they want to work towards installing adequate bathrooms with flushing toilets and septic tanks – one for each homestead.
Project Description
This is a model project to install the first flushing toilet and septic tank system in Bahía Honda.
One homestead, in particular, has taken the initiative to raise money, make a budget and prepare a construction plan. The bathroom at this first homestead will serve as a model to instruct and motivate the others to follow suit.
The Castillos homestead consists of 19 people living in three houses, and they plan to build the bathroom in a central location, to be shared by everyone.
Water Charity funds will be used to buy a toilet, a septic tank, pipes, and a small rainwater tank for flushing.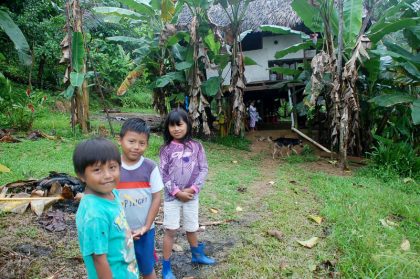 The three households will pool their own contributions to buy the cement, blocks, wood, and tin roofing.
One resident is a skilled construction worker who has created a design for a basic 1 m by 1 m bathroom, with an underground septic tank and leach field. He has compared prices for materials and is ready to make purchases and start leading the construction once they acquire the needed funds.
All the labor will be conducted by community members, many of whom have construction experience. We anticipate that it will take about a week to buy the materials and about three weeks to complete the construction.
Project Impact
19 people will benefit from the project.
Peace Corps Volunteer Directing Project
Jenny Boyd
Comments
This project uses the appropriate technology under the circumstances. It will protect the environment, have a significant health impact, and serve as a model for others to follow.
Dollar Amount of Project
$555.00
Donations Collected to Date
$555.00
Dollar Amount Needed
$0.00 – This project has now been fully funded through the generosity of The Andando Foundation.
We encourage others to continue to donate using the Donate button below, and we will notify Peace Corps Volunteer Jenny Boyd of your donation. Additional funds will be used to fund the next project by Jenny and/or those of other PCVs in the country.

This project has been finished. To read about the conclusion of the project, CLICK HERE.