Baan Kong Dtak Nam School Water Project – Thailand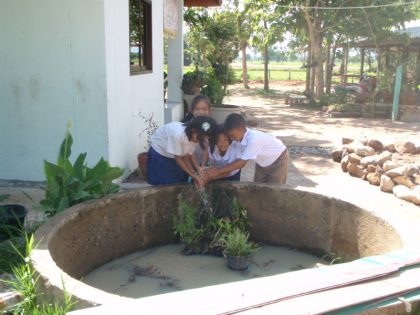 Location
Baan Kong Dtak Nam, Nakhon Sawan, Thailand
Community Description
Baan Kong Dtak Nam is a rural village with a population of about 700 people. The majority of the residents are rice farmers.
Due to the lack of rainfall in the area villagers are only able to harvest a single crop per year. Many of the women in the community are required to hold a second job in order to make ends meet. The average family is living on about 60,000 baht a year.
The isolated village has its own school, Baan Kong Dtak Nam School. It hosts about 40 primary-aged students and only 3 teachers, so there are three grades per classroom.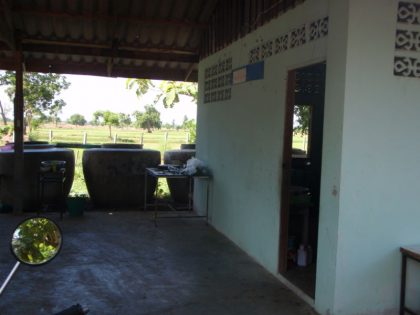 Because the community is so small there is not much for the young people to do, so the majority of them spend their free time at the school playing sports.
The school is used regularly for community meetings and for large community gatherings.
The school lacks sinks. Currently, students use a faucet that fills an empty fountain basin. Because the faucet is not convenient, many of them currently go the entire day without washing their hands.
Project Description
This project is to install several sinks near the kitchen at the school. Piping will be run to provide a new water source to the cafeteria.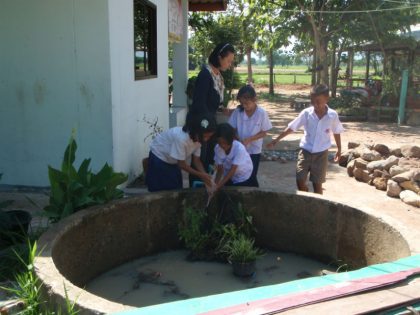 Having easy accessibility to sinks will encourage students to wash their hands more often. The students will be required to wash their hands before being served their lunch.
The work will be done by local technicians under the direction of the school administration.
Project Impact
This project will benefit all of the community's 700 residents, including the 40 students who attend the school.
Peace Corps Volunteer Directing Project
Noelle Neel
Comments
The new sinks will allow the students, faculty, staff, and visitors to practice better hygiene. This will reduce the incidence of disease, and instill healthful practices.
Peace Corps Volunteer Noelle Neel previously completed the Nong Sua School Handwashing Station Project – Thailand at a nearby village.
Dollar Amount of Project
$500.00
Donations Collected to Date
$500.00
Dollar Amount Needed
$0.00 – This project has now been fully funded through the generosity of The Soneva SLOW LIFE Trust as a part of their Clean Water Projects initiative.
We encourage others to continue to donate using the Donate button below, and we will notify Noelle of your donation. Additional funds will be used to fund the next project by the PCV and/or other projects in the country of service.
This project has been finished. To read about the conclusion of the project, CLICK HERE.