Ayi Mensah Borehole Project – Ghana
This project is made possible through the partnership of WATER CHARITY and the NATIONAL PEACE CORPS ASSOCIATION.

This project has been completed.  To read about the conclusion, scroll down the page.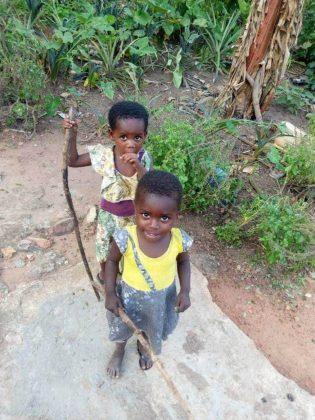 Location
Ayi Mensa, Ga East Municipal District, Greater Accra Region, Ghana
Community Description
Ayi Mensa is a village in the Ga East Municipal District, a district in the Greater Accra Region of Ghana.
The community is located between Oyarifa and Kitaase, about a 45-minute drive from the capital city of Accra. The majority of the people are Ga's and Ewe's, with a population of about 1,200 people, including children.
About 80% of the people engage in peasant Farming and the other 20% are involved in trading and other businesses. Women especially engage in roadside selling to pay for the living expenses of their families. Products sold are bread, gari, popcorn, plantain chips, soft drinks, biscuits, agbele, kaakolo, and sometimes chickens and other animals.
Some of the crops that are grown by the people are cassava, plantain, cocoyam, banana, papaya, pineapple, and corn. Foods such as fufu, ampesi, gari forto, banku, kenkey, akpele are mostly eaten by the people of the town.
About 80% of the people are followers of Christianity, 10% Muslims and the other 10% are non-believers.
Ayi Mensah has one government basic public school and numerous private ones that provide access to quality education.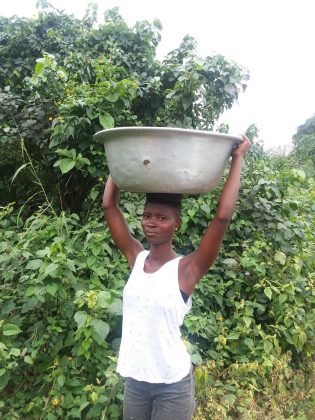 Problem Addressed
In the past, people living in the area relied mainly on water from the river and rainwater for their daily needs. However, due to excessive cutting down trees along the catchment area, and climate change, the river goes completely dry during the months of January, August, October, November, and December. During these dry periods, the only access to water is by crossing a risky highway to fetch water from a rock opening about 5 feet away from the roadway.
Project Description
This project is to build a borehole, powered by an electric pump, and to install a poly tank for water storage.
The borehole will go deep into the ground to about 65 meters.
Other activities will include:
– Pressure pipes installation
– Pump installation
– Molding of concrete/block structure for tank installation
– A water meter to monitor the water usage
– Half-inch PVC pipes will then be linked from the meter into the tank and a tap fixed to access water.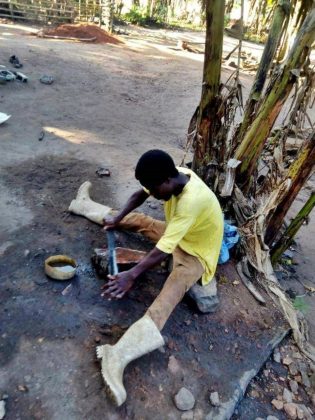 Project Impact
1,200 people will benefit from the project.
Project Administration
The project will be implemented under the direction of Nana Kudjoe Kesse, Executive Director and Chief Operations Officer of H2O Africa Care. Nana previously completed five other borehole projects.
We are grateful to Solomon Amuzu, of Call to Nature Permaculture, who is providing additional assistance and oversight.
Monitoring and Maintenance
H2O Africa Care will implement the project and monitor its success after completion. The H2O team will conduct a check visit twice a year to ensure the smooth running of the system.
In addition, the community leaders will appoint an able person to run the facility. A small amount of money will be collected from each home for the repairs and maintenance.
Project Funding
The funding for this project has been provided by an anonymous donor.
If you like this project, please make a general-purpose donation to Water Charity, so that we will have funds available to immediately start our next project in Ghana.
Ayi Mensah Project Conclusion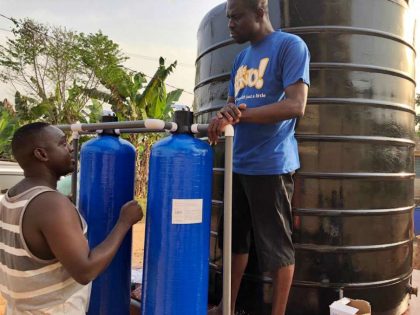 This project has been completed successfully with the cooperation of H2O, Water Charity and the area community of Ayi Mensah.
Nana Kudjoe Kesse reports:
Before beginning the project, several meetings were held between H2O and the local community leaders. Through our partnership with Water Charity, we were able to secure funding to carry on with this great project. A contract was awarded to the expert water installation company "Lee Yong". A survey was conducted to find the best location and the project was implemented as follows:

 

•Surveying and selection of location with the aid of a groundwater detector 

•Clearing and pegging our selected space 

•Elders of the village prayed and poured libation asking for protection and guidance from forefathers 

•Drilling the borehole (60 meters deep) 

•Installation of pressure pipes  

•The concrete platform raised to hold the tank 

•Piping and connections made attached to a storage tank 

•Installation of 2HP water pump and 3000L water tank 

•Since this location is known for a high level of iron, treatment equipment was installed to purify the water.

We are happy to announce that everything went smoothly from the beginning to the end of the project. Here are a few comments recorded as the work progressed:

 

– We thank God for directing people like this to us

– This project has really started our year with blessings 

– We have the best water system in this area!

– Wherever you got this funding for the project, we pray that God continues to open more doors you

– We have never seen this kind of water treatment before.

– We are now safe from risking ourselves crossing that highway in search of water.

– We can now fetch easily, even during the night.

 

65-year-old Ofosuwaa and 45-year-old Agya Addo, village women, were appointed to be in charge of the facility. Everyone using this facility is required to pay a small fee towards repairs and maintenance of the site. The two appointees were given special training about how to run the facility and the treatment equipment. After completion, prayers were said to bring the project to an end. Our H2O team thanks Water Charity for sponsoring this great project!
We are grateful to Nana for completing another excellent project!