Adigeni School Water Project – Georgia
Location
Adigeni, Adigeni District, Samtskhe-Javakheti Region, Georgia
Community Description
Adigeni is a district in Georgia's southern region of Samtskhe-Javakheti covering an area of about 800 km2. It has a population of over 20,000 people.
The Adigeni public school serves about 200 students from 1st through 12th grades from the Adigeni municipal areas and smaller surrounding communities.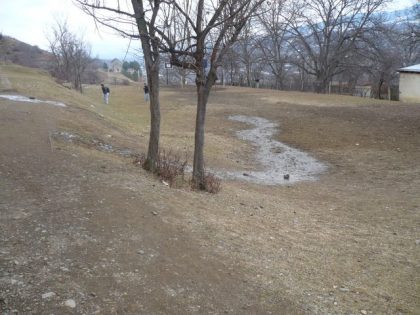 There is existing access to the public water supply on the far side of the schoolyard, approximately 150 ft. from the bathrooms. The piping is damaged, and water leaks onto the school exercise yard making large parts of it unusable. The bathrooms have no water supply, so water must be carried from the nearest source.
Project Description
This project is to bring water to a convenient location on the school grounds and install a sink next to the school bathroom building.
Water Charity funds will be used for materials, including new pipes and a basic sink.
All labor involved in laying the pipes, connecting them to the public water line, and installing the sink, is being furnished by community members whose children attend the school.
Project Impact
Over 200 students and staff will directly benefit from the project. Additionally, it will relieve community members who live adjacent to the school of the responsibility of providing water for drinking and washing to students.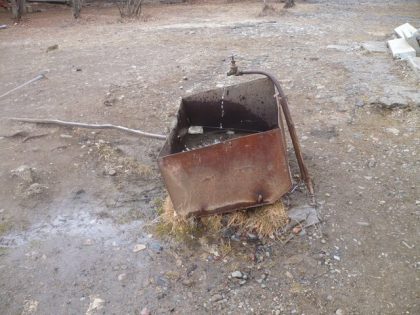 Peace Corps Volunteer Directing Project
Colin Shepley
Comments
This is an important infrastructure project, bringing water to the bathrooms, where it will be available to serve the needs of the students. It will have immediate health benefits and improve the well-being of those that attend the school and also the surrounding neighbors.
Dollar Amount of Project
$400.00
Donations Collected to Date
$20.00
ADOPT THIS PROJECT BY CONTRIBUTING THE DOLLAR AMOUNT NEEDED BELOW
Donations of any amount will be appreciated. The full amount will give you "naming rights", if that is something you would like.
Any contributions in excess of the Dollar Amount of the Project will be allocated to other projects directed by this PCV and/or projects of other PCVs in this country.
Dollar Amount Needed
$380.00
This project has been finished. To read about the conclusion of the project, CLICK HERE.