Conclusion of Zabuzhya Library & Youth Center Bathroom Project – Ukraine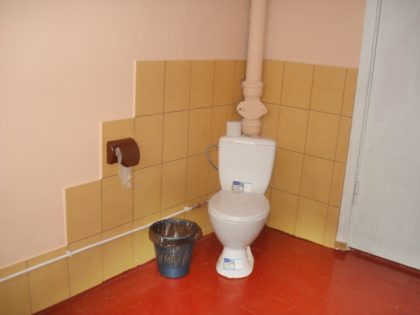 This project has been completed under the direction of Peace Corps Volunteer Emily Watson.
To read about the beginning of the project, CLICK HERE.
The project was to refurbish an indoor toilet at the center.
Emily reports:
The primary goal of this project was to refurbish the previously existing but inoperative indoor toilet at the Zabuzhya Library and Youth Center.

The broken septic line was repaired, the septic tank was cleaned and repaired, a new toilet and sink were installed, the indoor piping was repaired, and cosmetic repairs such as new paint and tiles were completed.

The librarian I coordinated with on this project has expressed profound thanks for the funding and the community is delighted with the new toilet facility. Children who recently gathered for an event were taken by surprise when they found out that there was a new fully functional indoor restroom in the building.
We extend our thanks to Emily for completing the project and again wish to express our gratitude to John Watson for providing the funding.