Sintet Health Center Solar Pump Project – The Gambia
This project is made possible through the partnership of WATER CHARITY and the NATIONAL PEACE CORPS ASSOCIATION.

This project has been completed.  To read about the conclusion, CLICK HERE.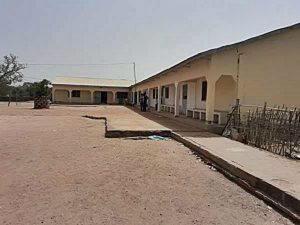 Location
Sintet Village, Foni East Province, Lower River District (South Bank), The Gambia
Community Description
Sintet is actually three villages combined: a Jola village, a Mandinka village, and a slightly separate Fula village. The total population is around 10,700.
The health center serves approximately 38 surrounding villages, including villages south of the Senegal border in Casamance. The catchment area has a population of 36,000.
The clinic conducted 125 deliveries last year. Total patient visits were 8,320. Services provided include family planning, reproductive and child health, labor and delivery, outpatient services, cervical cancer screening, and birth registration, among others.
Problem Addressed
The health center had a well and water system installed in 2013. This included a concrete-lined well, water tower, 2,000-liter plastic tank, submersible pump and solar panels wired directly to the pump.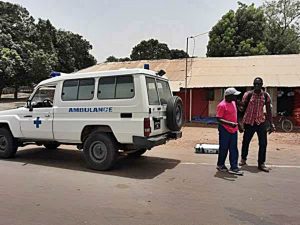 After seven years of good service, the Shur-flow pump has finally corroded to disuse. Also, three of the four solar panels have degraded. They could still be cobbled together to run a 24-v solar pump but the results would likely be marginal and any further degradation of the panels would result in inadequate electrical supply for the pump.
Project Description
This project is to renovate the solar pump system by installing a new solar pump and replacing solar panels and miscellaneous hardware to power the pump.
All other facilities are already in place. It will require a few hours to install the pump and get it operational again.
GambiaRising will oversee this project along with clinic staff.
Project Impact
There are over 8,000 patients visits per year from a service area of 36,000 people.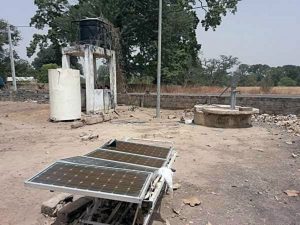 Project Administrator
Mike McConnell, Managing Trustee, GambiaRising, and Former Country Director for Peace Corps in The Gambia from 2007 through 2009. Mike previously directed several projects working with Water Charity
Monitoring and Maintenance
The project will be overseen, monitored and maintained by Malang Kujabi, Chief Nurse, and Ebrima Marong, Gambia Rising Staff.
Project Funding
This project has been made possible through the generosity of an anonymous donor.
This project is part of our ongoing Western Africa Water & Sanitation Program, and donations using the Donate button below will be allocated to projects in that program.
Funds raised in excess of the project amount will be allocated to other projects in the country.

Conclusion of Sintet Health Center Solar Pump Project – The Gambia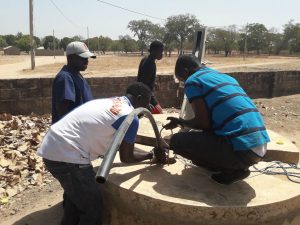 This project has been completed under the direction of Mike McConnell, Managing Trustee, GambiaRising, and Former Country Director for Peace Corps in The Gambia from 2007 through 2009. To read about the start of the project, CLICK HERE.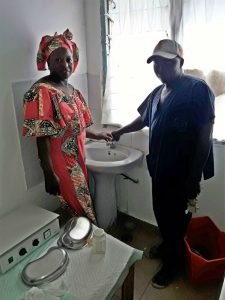 The project was designed to install a new solar pump and replace the solar panels.
Mike reports:
The Gambia Rising/WAME team, with project approval and funding provided by Water Charity, went to the up-country Gambian village of Sintet, location of the Sintet Minor Health Center.

It was blast-furnace hot and dusty, but the clinic had been without water for some months since its pump failed. They were having a tough time cleaning their instruments and equipment, furnishing drinking water to patients and staff and just doing all the things we take so much for granted.

We installed a new 24-volt pump, as well as two 250-watt, 24-volt solar panels, and ran new 1" pipe up to their holding tank.

With the sun high, the 2000-liter tank filled in an hour and faucets in the clinic were again running, clear, fresh water.

Malang Kujabi, the head nurse at Sintet, was delighted. He emphasized how important this is for the clinic and was profuse in his thanks to Water Charity, Gambia Rising, and West Africa Medicine & Education.

Here is a video:

Thanks so much for supporting this vital work.
We extend our thanks to Mike for completing this important project.