Conclusion of Nsuo Ase Water System Project – Ghana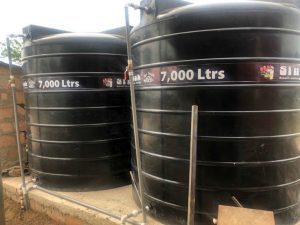 This project has been completed under the direction of Nana Kudjoe Kesse, Executive Director and Chief Operations Officer of H2O Africa Care. To read about the start of the project, CLICK HERE.
The project was designed to build a water system to serve the needs of the community.
Nana reports:
This project has been completed successfully with much joy, happiness and gratitude.

The project began with a survey to determine the best location for the project. This was done by the H2O team, Daily Plumbing Company and elders from the community.

On the morning after the survey, the contracted company began the work and within 6 weeks the project was complicated.

Trenches were constructed along the demarcated stretch. 5-inches pressure pipes were laid from the water source to the selected station at a distance of 952 meters.

Our initial plan was to install a 2,000-liter water tank, but considering the scarcity and the consumption rate of potable water in the area, the elders from the village went the extra mile in contributing additional money that enabled us to purchase two 7,000-liter storage tanks.

Other procedures included:

– Construction of concrete platform for the tanks
– Connecting and gluing of pipes and taps
– Installation of electric motor pump
– Construction of soak pit to collect spill water

In addition, a small room was built to serve as an office for management and a place to keep small tools and equipment.

Three people were then appointed to manage the facility. Their duties now include ensuring the functionality of the system, collecting a small maintenance fee from each user, and accounting to the community every six months.

Following are a few comments from the villagers:

– Many blessings to everyone that made this possible.
– Our cry is now over.
– No more hard rain dance.
– We cannot thank you enough.
We extend our thanks to Nana for completing this important project.