Waware Mixed Day Secondary School Rainwater Harvesting Project – Kenya
Location
Rusinga Island East, Mbita District, Homa Bay County, Nyanza Province, Kenya
Community Description
Rusinga Island East is primarily a subsistence farming and goat raising economy.
Waware Mixed Day Secondary School serves 350 students. It is a struggle for most of the parents/guardians to raise the school fees required by the school. However, the school still offers a lower-cost alternative to the more expensive and distant secondary schools.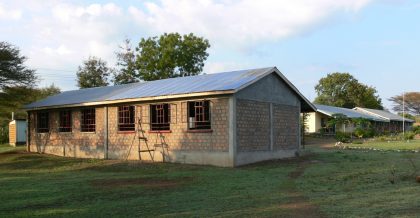 The school kitchen has a requirement of 1,900 liters of water per day, and is currently unable to meet that number. There is an additional need for water for irrigation for the adjacent garden area.
The school currently purchases water, but it is expensive. It comes from Lake Victoria, and is often contaminated, requiring treatment.
Project Description
This project is to purchase and install a 5,000-liter water storage tank and rainwater catchment system to supplement the daily water needs of the school.
The project will be carried out under the direction of the Waware Mixed Day Secondary School, Board of Governors and Principal.
Water Charity funds will be used to purchase a 5,000-liter KenTank from Mbita Town or Kisumu, as well as 18.5 meters of gutter, elbows and a lockable spigot for the tank.
The shortfall amount will be provided by the school community, which will pay for the slab on which the tank will sit, the elbow and cover attachments, and the salaries of the fundis (workers) who will install the system.
The tank will be installed adjacent to the Form Two building. The gutter system will collect the rainfall from 120.25 square meters of roof surface.
During a rainstorm of ½ inch accumulation, this amounts to approximately 4,200 liters of collectible rainwater. Storms of this magnitude and greater are common during the long rains of March through July.
With the additional water, irrigation will be provided to grow much of the vegetables consumed by the school for the lunch program. The garden will also be a teaching tool for sustainable irrigation agriculture.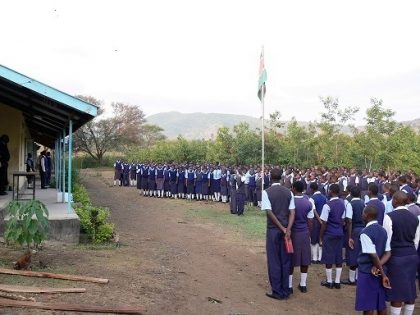 Project Impact
350 students, in addition to teachers and staff, will benefit from the project.
Peace Corps Volunteer Directing Project
Dave Rowson
Comments
This is an important project for the school in that it will make water available during the entire year. In addition, the school can save money previously spent to purchase water. The outcome will be a reliable supply of cleaner and safer water and reduced treatment costs.
Dollar Amount of Project
$555.00
Donations Collected to Date
$20.00
ADOPT THIS PROJECT BY CONTRIBUTING THE DOLLAR AMOUNT NEEDED BELOW
Donations of any amount will be appreciated. The full amount will give you "naming rights", if that is something you would like.
Any contributions in excess of the Dollar Amount of the Project will be allocated to other projects directed by this PCV and/or projects of other PCVs in this country.
Dollar Amount Needed
$535.00
This project has been finished. To read about the conclusion of the project, CLICK HERE.