Kanoni Water Tank Project – Uganda
This is the second project to be implemented under the Interlocking Stabilized Soil Bricks Water Tank Program – Uganda, and the fifth project to be integrated into the more comprehensive Water Tank Program – Uganda.
Under the direction of Peace Corps Volunteer Jesse Coker, a large-capacity water tank will be built to serve the needs of the Kanoni Bible College, located in Kanoni Sub-County, Kiruhura District, Uganda.
The school is a small three-year-old college that trains individuals to become church leaders within the Christian faith. There are 96 students currently attending the college, most of whom are district residents. The college works in association with Kanoni Archdeaconry, just next door to the college.
Kanoni Bible College and Kanoni Archdeaconry are both parts of the small trading center of Kanoni, which occupies a stretch of dirt road less than a kilometer in length in a very rural part of a generally rural district.
The project to be undertaken is the construction of a 25,000-liter rainwater harvesting tank. This tank will be built using Interlocking Stabilized Soil Bricks (ISSBs).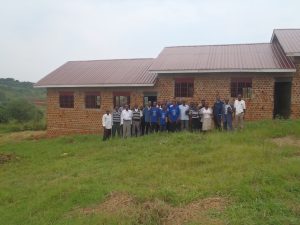 The business of tank construction was started both to provide communities with clean drinking water and also to support the operations of Engari Community Health Centre, PCV Jesse Coker's host organization.
The project also provides some community members with employment opportunities, as seven local builders have been trained in the ways of using this methodology. So far, the project has constructed three water storage tanks, all of the 20,000-liter capacities. Two were built at the Engari Community Health Centre, and one was built at Sya Bright Future Primary School.
It is believed that the proposed project will be the catalyst for the business to gain momentum, on its way to becoming self-sufficient. The location of the tank is ideal for marketing, as all of the bricks will be made on-site, next to a road filled with passers-by throughout the day.
The tank will be built just on the downslope side of Kanoni Bible College. The now- experienced team of five masons, with two alternates, will be constructing the tank over a period of three weeks. This includes making all of the bricks needed (about 1,200), digging and setting the foundation, laying the bricks and supporting apparatus, roofing, plastering, and finishing processes.
The bulk of the project costs are being paid by donations from local community members, with Water Charity funds making up the necessary balance. The community will also be providing assistance throughout the project with labor, such as helping to carry bricks from the roadside down to the building site, or by sifting murram in preparation for making the bricks.
Ninety-six students of the college, in addition to twelve faculty members, will be the main beneficiaries.
During holidays, or in times of need, the tank will be available to other community groups, such as the adjoining primary or secondary schools.
This project has been concluded.