WFE- GIS & Filtration Training I – Togo
Water for Everyone Initiative: Initial Training of Workers on GIS Applications and Filter Installations – Togo
Our Water for Everyone Initiative began a new chapter in Togo this April as new Country Director for Togo, Luke Tarr, and a representative from Sawyer International. Darrel Larson arrived in the capital Lome and conducted an initial training of local workers on April 10th and 11th. 10 young men and women participated in this training with the intention of serving Water Charity in conducting Assessments of the various regions of Togo, followed by what will be the mass distribution of Filters around the nation.
The training itself included various aspects: the first day was spent in a classroom and began with a breakdown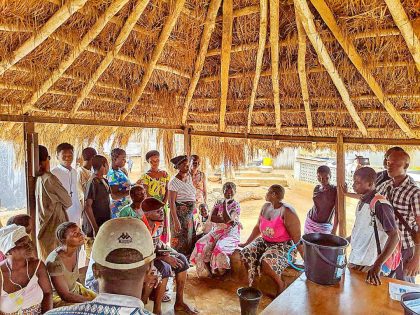 of the Sawyer filters, including details on what these filters remove from the water, the health benefits of using such a device and how to put the filters together with a standard bucket. Two members of our core team of 10, have backgrounds in Biology and were able to contribute extensive knowledge from their perspectives as to the benefits of these filters. This information was a key part of our distribution phase in educating local villages about the necessity of using the filters on a daily basis to avoid diseases is crucial. Upon correct installation of filter and bucket, the two main aspects of filter usage were demonstrated – the filtering of water itself and the cleaning of the filter. These two processes were repeated over and over in the field as filters are distributed.
During the day in the classroom, our team was also trained in navigating our GIS application and the three surveys directly used to collect data. These surveys include the initial Assessment, where villages across the country are surveyed to determine their water sources and population size, so, that we can best determine which method will serve their needs (Filters, Borehole, Well Repair, etc.), followed by a Filter Install and Filter Follow Up survey. The Filter Install survey takes place when a team member presents a family with a brand new water filter and involves collecting data such as the number of people in the household and what health symptoms they have experienced recently. The Follow-Up surveys are done at two points: 2 weeks and 8 weeks after the initial Filter Install, to monitor the correct usage of the filter and how family health has changed in that time period.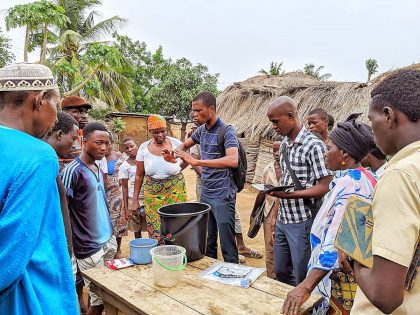 Our second day of training was a full day out in the field in Lilikoi, a village of about 2,500 people at a distance of 25 miles from the capital city, Lome. Jacques Anato (team member and Biology tutor) conducted an initial demonstration of the Sawyer filter at the Village, Chief's compound for about 60 people in attendance. From here, we split into teams of two to conduct Filter Installs around the village – Filter Demonstration and Surveying each family. Team members got the opportunity for a hands-on experience running a demonstration, involving lots of public speaking in front of each family, as well as the process of collecting statistics as part of the Filter Install survey. Such was the interest around our work that most demonstrations which would usually involve 8 to 10 members of one family, quickly grew to around 30 as neighbors came by to learn about the filters. Prior to leaving, team members also had the chance to do an 'Assessment survey' with the village's chief, so that 2 out of the 3 surveys were covered and put into working action during our first field day. In total, 39 families were supplied with Sawyer filters and buckets, providing clean drinking water for approximately 300 people our first day out.
The final step of our training process happened two weeks after the initial training days, as we returned to Lilikope on April 25th to conduct Follow Up surveys. This was an additional opportunity to supply more families with clean water, so another 41 filters were installed in the morning, followed by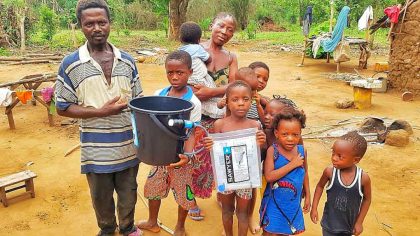 teams splitting up and conducting surveys around the village in the afternoon. It was encouraging to see that the vast majority of families could demonstrate proper usage of the filters and seemed to be using them on a daily basis. For the minority where this was not the case, our follow up gave us the opportunity for further instruction and demonstration with the filter to ensure multiple family members were aware of how to use it, as well as the various health benefits of doing so.
From here, with a trained, extremely qualified and now certified team of 10 young individuals, Water Charity has begun to implement a strategy and program to conduct assessments around the nation to determine water needs in each region and district. This will rely heavily upon the GIS application in terms of pinpointing locations of even the most remote villages we travel to. We are excited to get the ball rolling here in Togo and expect our excitement will be mirrored by those receiving sources of clean, healthy water, who had nothing of the sort beforehand.