Conclusion of Tchore Borehole Project – Togo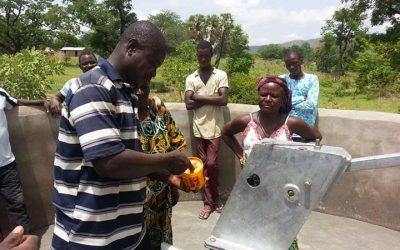 This project was designed to build a borehole with a hand pump in proximity to the community hospital and elementary school. The project has been completed under the direction of Peace Corps Volunteer Riley Pavelich.
To read about the beginning of the project, CLICK HERE.
Riley reports as follows:
Our project is finished and our pump has been functional for several weeks now.

The work progressed systematically from the beginning, when the technicians came and identified two potential borehole sites near the hospital. Then, the borehole digging machine came in and found clean water at a depth of 50 meters. The borehole's capacity is 7,000 liters of water per hour.

Before this project, my village had only one pump, which functioned poorly with a capacity of 400 liters of water per hour. This project has increased my village's access to clean water by more than 1,000%. The primary school, hospital and market are all centrally located near the new pump and have used the water beneficially.

After drilling the borehole, a team of masons came in to construct a hygienic platform around the pump with a drainage system.

Our water pump committee cleans the pump area daily and trains villagers on how to properly handle to pump to insure its maximum longevity. So far, the water committee has more than 25 families who donate monthly to use the pump, not to mention the patients at the hospital.

Since the pump has been functional, 6 babies have been birthed in our center. We can use as much water as we need now to clean up before and after a birth. Everyone is ecstatic about how our pump has affected the community.

Many women have thanked me for how this pump project has changed their lives. They tell me that it has given them so much more time in the day. Time, in my opinion, is a precious resource and I hope having more time and energy will permit my friends to expand their leisure and income-generating activities.

Thank you so much for making this project happen for the village of Tchore, and moreover thank you for facilitating this life-changing experience for myself.
We, in turn, wish to express our gratitude to Riley for completing this excellent project.