Conclusion of Soumdina-Bas Well Project – Togo
This project has been completed under the direction of Peace Corps Volunteer Katie Koralesky. To read about the beginning of the project, CLICK HERE.
The project was to dig one new well in the village of Ewede, and to re-dig an existing well in the village of Sodoa.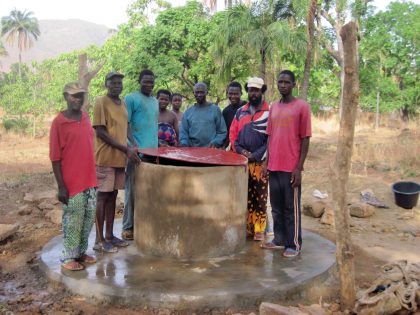 Katie reports:
Project planning
In Ewede, we collaborated with a women's group that I practice income-generating and development activities with. The women agreed to collect money weekly, 100F per week (about $0.20) to help fund the project. They also agreed to contribute sand, gravel, and to find people to dig the well, and masons to construct the well.

In Sodoa, community members also agreed that men and women in the area would be required to contribute a fixed amount of money to help fund the project. The women agreed to collect sand and gravel, and the men agreed to find masons and help the masons with manual labor. Together, we made an action plan detailing which activities needed to be done, who was responsible for doing them, and when. This was designed to help work progress and for us to finish the project within one month.

Implementation
We bought materials for the project March 8th, and bought additional cement on April 1st. In both villages, my counterpart and I (who worked with me to help coordinate work and as a translator for local language when needed) had to push people to get started with the projects. February and March are two months during the year when the Kabiye people celebrate funerals, and so week long parties are thrown to celebrate those who have died. This made initial work slow to start, so we had to really push people to start collecting sand, and start digging in order to complete the project completely before rainy season.

How the work progressed in Ewede
The women decided to hire men to dig their well, as there weren't enough young men available in their area to dig. The well diggers started digging March 10th, but after five meters they stopped and demanded more money than they had previously agreed upon. Due to poor communication, work stalled for a week. Because it was the women who had hired the men to dig, I didn't want to intercede. We ended up having a meeting (in which I did not participate) with the village chief, a few women from the women's group and a few of the well diggers, plus a third party to mediate. The chief and women convinced the well diggers to finish the work for the amount agreed upon initially by telling the well diggers they had hired them because they knew they would do a good job and not leave the job unfinished, which was smart, as the well diggers didn't want to do something that would give them a bad name and jeopardize future work. After this problem was solved, the women really stepped it up and found a mason and his apprentices to build the well, and later a welder to make the cover. The mason the women hired is very professional and helpful, and is known as not only a great mason in our community, but also a mason who does a lot of community development work. Because he is so great, he has a lot of work, and was only available to construct the well on the weekends, which is why construction took three weeks.

Throughout construction, which began March 20th and ended April 8th, women collected enough gravel, sand and rocks to complete the well, and on the weekend, students helped the masons with their work. Much construction happened during the week of spring break, and there were several high school students who helped to mobilize others and accelerate the work.

How the work progressed in Sodoa
Here, our goal was to re-dig an existing well. In the beginning, the depth was six meters, so we began digging and chipping rock away from the sides of the well, in order to facilitate construction. We successfully evened the sides, but were only able to dig an additional half meter in the well, as there was very hard rock at the bottom. There was still an adequate amount of water in the well, so community members decided to start construction. There were five main men who helped the masons with construction, so they worked a lot, but unfortunately, other members of the community didn't help out as much, and never gave their contribution to the funds, so other community members who had already contributed had to contribute again. They finished re-digging the well March 27th, and started well construction March 30th. The well was completed Friday, April 8th. One of the men in the group contacted his friend who is a welder to fabricate a cover for the well for a low price, which was helpful, but turned out to be a little frustrating, as the welder was hard to contact, wasn't clear about how work on the well cover was progressing, and finally brought us the cover on Sunday, April 10th, several days after he had said it would be ready.

End Result
The wells in Ewede and Sodoa are complete, and have greatly improved water access for the community. The women of Ewede are bursting with pride and confidence, and rightly so, because of all the hard work and contributions they made to build their well. They are excited to plan another development project already. The men in Sodoa learned lessons about the importance of good communication and cooperation in community projects. They realized community development projects are hard if the whole community is not involved. We are planning a village meeting to discuss this with community members in order to improve our work for any future projects.

This project not only brought our community two needed wells, but everyone involved learned a lot about wells, cooperation, and communication. Thank you, Appropriate Projects (Water Charity), for being a part of development in our village, Soumdina-Bas, Togo. Finally, I and community members would like to thank everyone who contributed to the funds. I, and everyone involved in the project, greatly appreciate your gesture of kindness.