Soumdina-Bas Well Project – Togo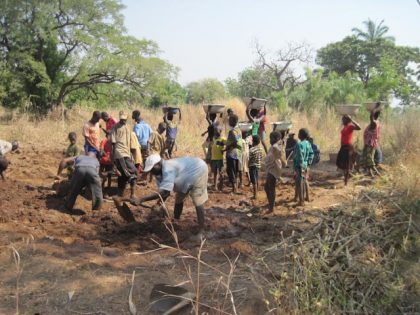 Location
Soumdina-Bas, Soumdina canton, Kozah prefecture, Togo.
Community Description
Soumdina-Bas is a rural community of 4,000 people located on a partially paved road, 15 kilometers from the regional capital city of Kara. The village is at the base of small mountains, from which the people of Soumdina-Bas came originally.
There are six smaller villages that make up Soumdina-Bas: Ewede, Kare, Pidah, Powai, Sodoa and Tcheou. Most people are Kabiye, one of the many ethnic groups of Togo.
Like many villages in Togo, each family in Soumdina-Bas practices subsistence farming, and each family member, children included, is expected to do their part on their families' farm. People grow mainly corn, (to make the staple corn paste, patê, in French) cassava, yams, peanuts, beans, soy and millet, which is used for making local beer.
In addition to farming, a handful of men in the village may learn a trade like a masonry or carpentry, and many men make gardens in which they grow large quantities of tomatoes, hot peppers and other vegetables to sell in the market. Many women make local beer, food, or palm oil to sell in the market as a source of income.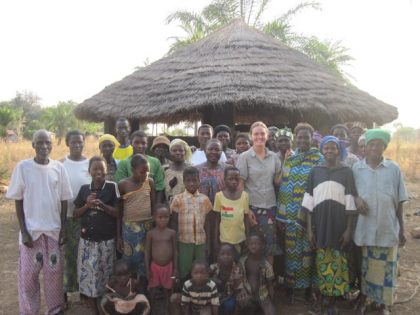 There is no running water, and only the village store, clinic and some houses along the partially paved road have electricity. There are several elementary schools, and one recently-built middle school. Students who complete middle school and wish to continue their studies must travel to a high school in a neighboring town, five to fifteen kilometers away.
Project Description
This project is to build two wells, one located in the village of Ewede and one in the village of Sodoa. In both of these villages, village members, village chiefs and women's groups identified the needs, developed plans, and sought assistance from the Peace Corps Volunteer living and working in the community.
In Ewede, a women's group precipitated the plans for the project. Their quarter of the village has no well. After discussing building a well with the PCV, the women started collecting 100F each, (about 20 cents) per week to eventually be able to buy materials and construct the well themselves. They already have about 10,000F (20 dollars), but in order to dig the well this dry season in March, they needed additional funds.
Construction will proceed under the direction of local skilled workers. All manual labor, sand and gravel will be contributed by the community. Additionally, tools required in well construction exist in the community from a previous well project, and so the community will contribute to those as well.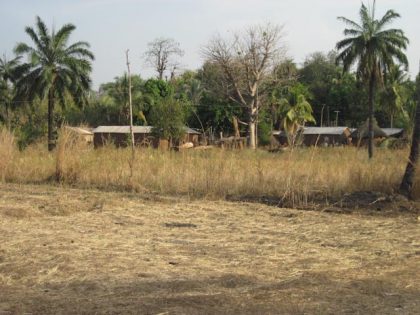 Project funds will be used to purchase cement to build the well, and for the fabrication of a well cover.
In Sodoa, the quarter village chief, named Tchakada, approached the PCV about making a well in one-quarter of the village. He helped her to organize meetings with the community to discuss the problem.
At the site, there is in fact a well, but it is not sufficiently deep. It goes dry very quickly after the rainy season as many people use it. It has no cover to help keep the water clean. It is low to the ground, and thus dangerous to use, especially for children, who often fetch water.
The depth of the existing well will be increased by hand digging. The well area will be made more easily accessible, and a metal cover will be fabricated to protect the water from contaminants.
The community will contribute the majority of sand, gravel, and all manual labor.
Project funds will be used to pay for the cement and the well cover, and, if necessary, purchase additional sand.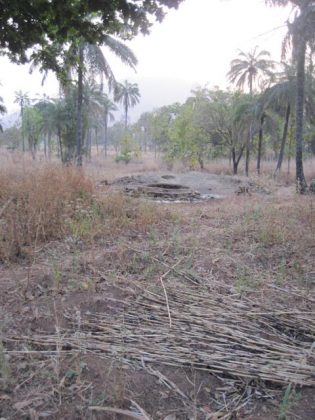 Project Impact
This project will directly benefit 350 people.
Peace Corps Volunteer Directing Project
Katie Koralesky
Comments
This is an extremely cost-effective project, resulting in two wells providing safe water to two small villages. It incorporates locally-proven technology, and is well-planned. The villagers are very motivated and well-organized, factors necessary to ensure success.
Dollar Amount of Project
$500.00
Donations Collected to Date
$500.00
Dollar Amount Needed
Dollar Amount Needed
$0.00 – This project has been fully funded, through the generosity of David and Deanna Koralesky and their family and friends in Minnesota and LaCrosse, WI, USA.
We encourage others to continue to donate using the Donate button below, and we will notify Peace Corps Volunteer Katie Koralesky of your donation. Additional funds will be used to fund the next project by Katy and/or those of other PCVs in the country.
This project has been finished. To read about the conclusion of the project, CLICK HERE.