Bassar Prefecture Water Project – Togo
This project is made possible through the partnership of Water Charity and the National Peace Corps Association.

Location
Bassar Prefecture, Kara Region, Togo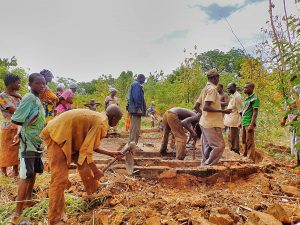 Community Description
Kara is one of Togo's five regions and is divided into the prefectures of Assoli, Bassar, Bimah, Dankpen, Doufelgou, Kéran, and Kozah. A need for water in rural regions of Kara was identified.
Problem Addressed
Potable water is a crucial resource that is difficult to come by in Togo. The villagers are forced to walk many kilometers to find a water pump or to collect river water. In the dry season, which in northern Togo is 6-7 months long, this becomes even more of a problem. Women and children bear this burden and the time spent collecting water causes radically imbalanced dropout rates of girls as opposed to boys in high school, middle school, and even elementary school.
After recognizing the need for water in the most rural areas of Kara, a plan was developed with a reliable, local mechanic and pump part distributor to search out the neediest communities. Radio announcements were made and flyers were posted in the Bassar and Dankpen areas. Interested villages filled out applications with their water committees.  Over forty villages were considered and eighteen were visited. Twelve were chosen in the Bassar prefecture of Kara, Togo.
These villages were required to have a well-organized, elected water committee with a bank account as well as a high need for potable water.  Communities were chosen based on the organization of the water committees, the motivation of the community, and the scarcity of water.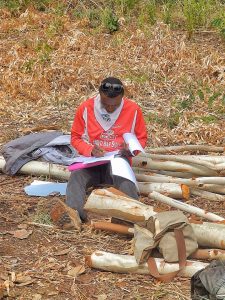 Project Description
This project entails fixing twelve pumps in Bassar prefecture.
A precise diagnosis of the problem with each pump will be made, and the parts will be ordered.  Upon arrival, an experienced pump technician will make the necessary repairs.
Twelve one-day-long workdays in each identified community will be carried out.  Hand washing will be demonstrated, moringa trees will be planted, and skits will be performed in local languages that demonstrate the need for gender equality.
The twelve communities chosen have already raised their share of 25% of funds.
Project Impact
This project will impact 11,504 people in Bassar prefecture.
Peace Corps Volunteer Directing Project
Megan Konigkramer
Monitoring and Maintenance
Megan and the water committee will visit the pumps three months after completion.  Subsequent Peace Corps Volunteers will follow up to ensure that the pumps continue to function properly
Comments
This is a Let Girls Learn project, which will improve access to clean water, thus decreasing the amount of time that school-aged girls, spend collecting water for their families each day. This time saved translates directly into time that can be better spent doing homework, arriving at school on time, and participating in extracurricular activities. This project will discuss these ideas in local languages through skits that we have written in "Bassar" and "Konkomba."
This project falls under both our Let Girls Learn Initiative and our ongoing Western Africa Water & Sanitation Program.
This project has been paid for by an anonymous donor.  If you like this project and would like to help with similar projects in Togo, please click on the Donate button below.

This project has been completed.  To read about the conclusion, CLICK HERE.