Bassar Borehole Repair Project – Togo
This project is made possible through the partnership of WATER CHARITY and the NATIONAL PEACE CORPS ASSOCIATION.

Location
District of Bassar, Kara Region, Togo
Community Description
Bassar is a relatively large district in the West Kara Region of Togo. There are two larger towns, Bassar and Kabou, and all other villages are rural, agrarian, and more impoverished.
The community has selected 8 pumps in the district to repair in a variety of communities. One pump was chosen in both Bassar and Kabou; the neighborhoods that utilize those pumps have combined close to 4,500 inhabitants. These areas are very densely populated and the mechanical stress on each pump affects water security for the entire community. When one pump is poorly functioning, there is a significant increase in mechanical stress on the surrounding pumps, increasing also their likelihood of mechanical problems.
The remaining 6 pumps are in a variety of rural communities. The total population in these villages is around 10,000. 3 villages are 3-20 kilometers from Kabou, the remaining 3 are 2-57 kilometers from Bassar.
In the Canton of Kabou, two villages are very agrarian, have a combined population of around 2,500 and are only accessible by motorcycle. One of these villages has no functioning pump at all, and water is only available in a neighboring village 2 kilometers away or in a nearby river. The other has only one poorly functioning pump, and the next closest pump is in Kabou 3 kilometers away.
The remaining village has is agrarian but accessible by car, incredibly motivated, and has a population of around 1,500. The community has both many corn and yam fields, but also has many self-guided gardens surrounding the pump, as well as very successful and organized animal husbandry practices. They have an incredible understanding of nutrition and health considering their generally low level of education, and have taken many steps as a community to improve their health and quality of life. They have two pumps, one functioning the other functioning poorly, the one functioning poorly located next to the elementary school and surrounded by their community garden.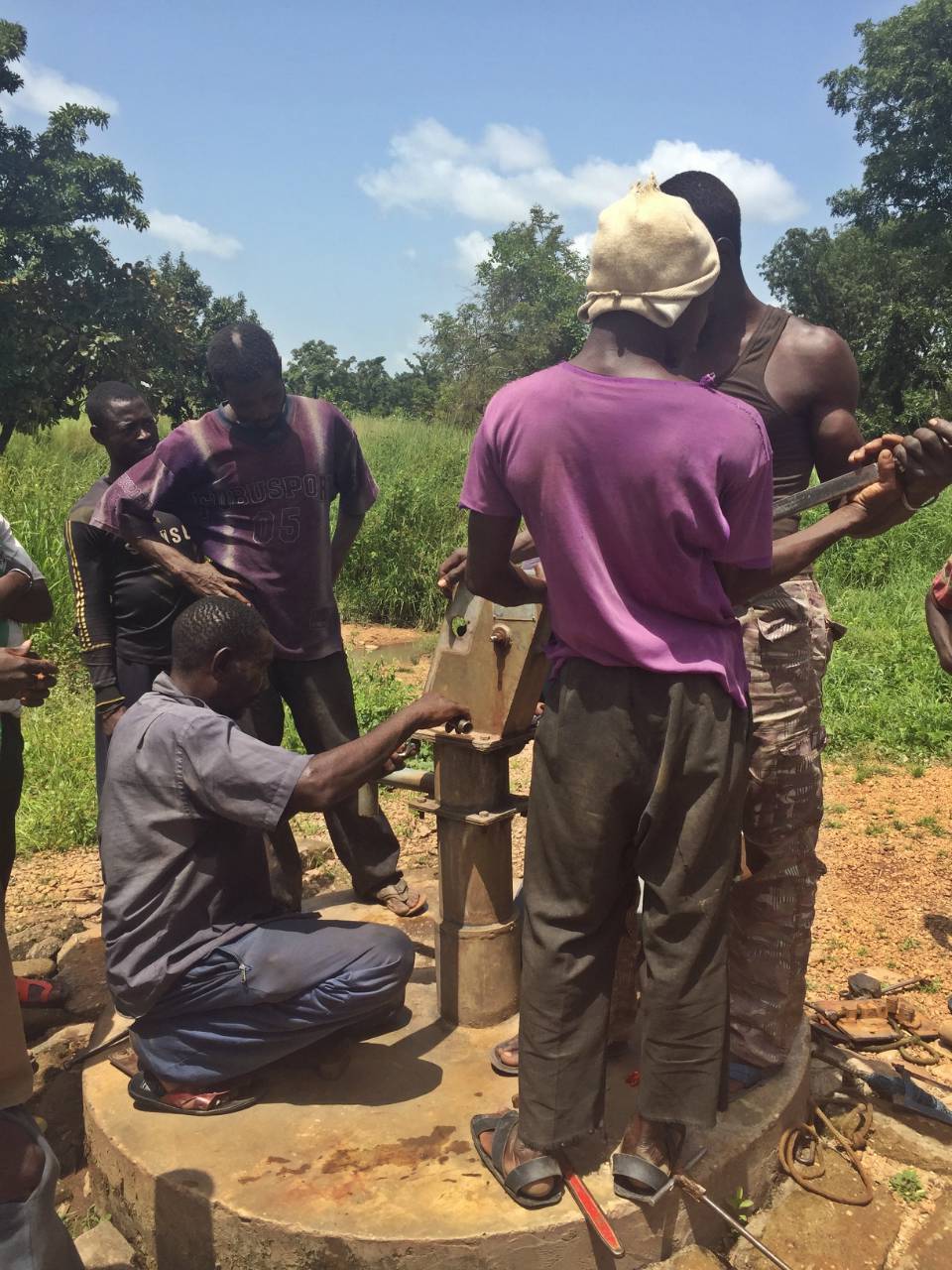 In the Canton of Bassar, there is a wider variety in both distance from Bassar and primary populations using the pumps chosen for repair. There is one pump in a village of about 3,500 people, about 2 kilometers from Bassar. The pump is centrally located and is used much more than the other pumps as a result of its location. The second pump is at an elementary school in a neighboring village. There are close to 1,000 students who attend the elementary school, all of whom use the pump, but it is also used by the surrounding neighborhood, with a population of around 500 people.
The final and farthest pump is 57 kilometers from Bassar, has a population of about 1,000 people, and has only one, very poorly functioning pump. The nearest village is 7 kilometers away, but there is a river that runs directly through the village. Unfortunately, as a result of this, the rates of waterborne diseases are very high and the village is 7 kilometers from their closest health clinic as well. Because they are among the more impoverished villages included in this year's projects, many of these diseases go untreated, and morbidity and mortality is unnecessarily high.
There is also a population of migratory people who live in the forests surrounding this village who have access to the pump. The population of this community is changing, but it is estimated to be around 100 people at any given time. While they don't live in the village itself, they would directly benefit from the pump repairs as well.
Problem Addressed
Togo is a developing country in West Africa, and as such struggles with high rates of (1) disease, (2) food insecurity, and (3) gender inequality. While some connections are more direct, pump repairs will have an impact on all three of these major development impairments in the Bassar District of Togo.
Two of the villages selected this year rely almost exclusively on river water and are two or more kilometers from their closest health clinic. Northern Togo also has much poorer sanitation practices than in the South. In some of the villages selected this year, there are no latrines present at all. Open defecation coupled by poor access to water increases the transmission of many diarrheal diseases. In Togo, diarrheal diseases are one of the largest causes of infant and childhood morbidity and mortality.
Food insecurity is more of an issue in Northern Togo as well. The rains are less frequent than down south, and as a result of this in many northern villages fruits and vegetables are only readily available for a fraction of the year. This sparsity of nutrients results in much higher rates of malnutrition in these communities. Poor nutrition has been shown to decrease the ability of our immune system to fight disease as well as poor performance academically.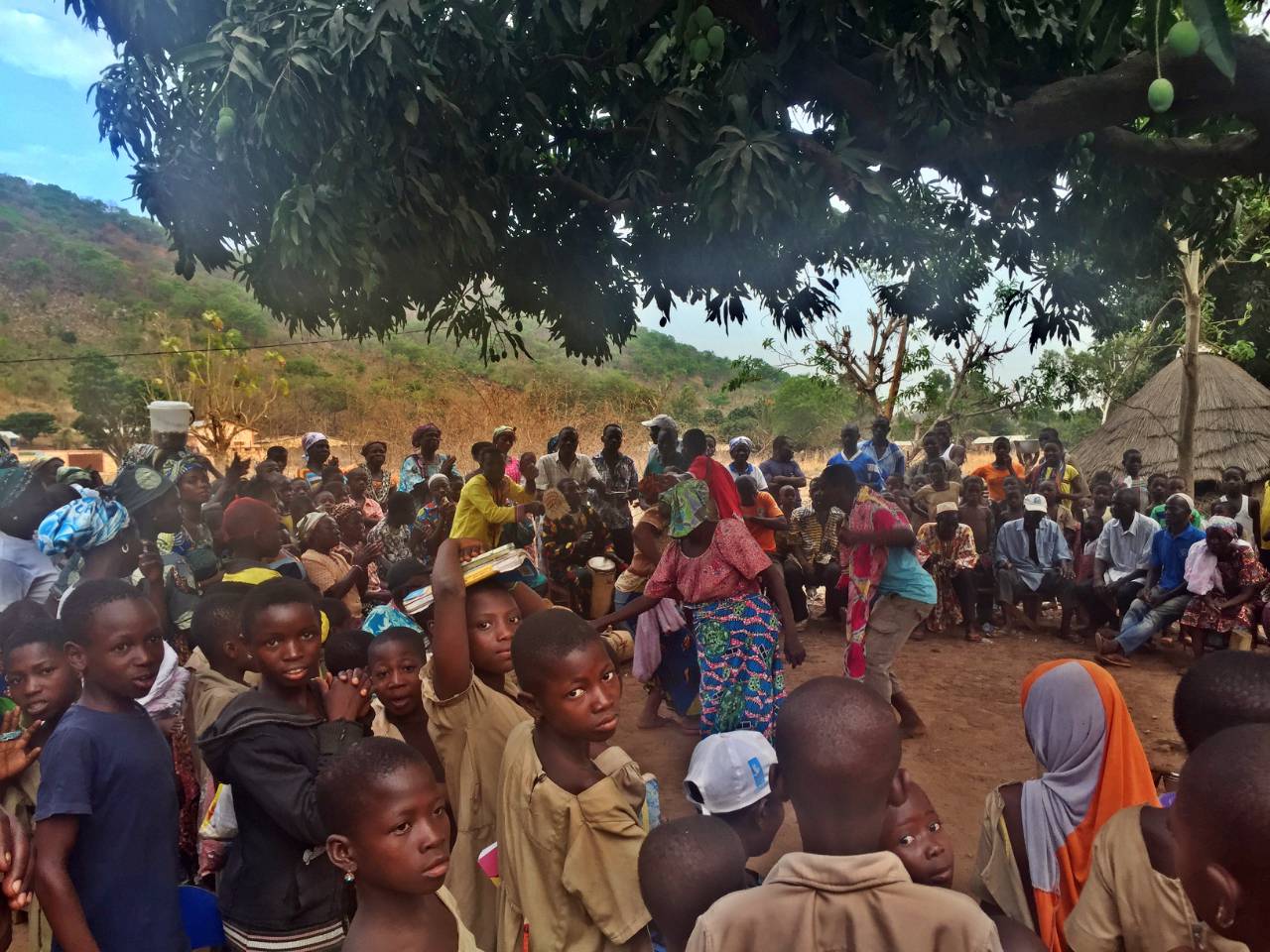 Gender inequality is also a major problem throughout Togo. Women and girls are commonly the only people who get water, sometimes kilometers away for each basin of water. Northern Togo also generally has larger family sizes, which correlates directly with number of basins required each day. Because this responsibility, as well as all other household responsibilities, falls on women and girls, their autonomy is significantly decreased.
Of the 8 pumps selected, 5 are very poorly functioning. 4 of them have another pump within 1 kilometer, whereas the fifth is the only pump in the village. Two of the pumps are not functional at all, and they are both the only pump in the village. The last is a complete installation of all mechanical pieces, although the hole has been dug and water has already been found.
Project Description
This project is to rehabilitate 8 boreholes in the Bassar Region.
The Togo | Clean Water Project is an ongoing initiative in Northern Togo, started almost 10 years ago. It is a collaboration between Peace Corps Volunteers and the Bassar Community Water Committee.
A Peace Corps official counterpart was identified, Kader, who is a hydraulics engineer. He started working very closely with the volunteers in the area and has since developed a team of hard working and trustworthy mechanics. The team is made up of 5 mechanics, Kader, and the volunteers in the area who are participating in the project that year. Since its beginning, Kader and his team have fixed hundreds of pumps in the region.
The Togo | Clean Water Project is a multifaceted approach to improving each of the three struggles discussed above, accomplishing more than the simple repair of the pumps. All villages selected have an existing and functioning water committee, that meets regularly and collects money from the community. They must keep in contact with the mechanics so they can do biannual maintenance, reducing the likelihood of large and expensive repairs in the future. Because the team of mechanics live in the same region, this creates sustainability long after the repair is completed.
Each pump is visited by the Volunteer and the two main pump mechanics prior to the start of the project. For each pump the mechanics determine its depth, and the number of pipes required to sufficiently maintain water access. All of the pumps will get brand new piping and mechanical parts, but only one will get a completely new pump head.
As for details of the repairs themselves, seven of the pumps will have everything replaced except for the external head and hand lever.
Pump 1: Depth is 45 meters, complete restoration of pump Mechanics
Pump 2: Depth is 45 meters, complete restoration of pump Mechanics
Pump 3: Depth is 30 meters, complete restoration of pump Mechanics
Pump 4: Depth is 45 meters, installation of new pump
Pump 5: Depth is 36 meters, complete restoration of pump Mechanics
Pump 6: Depth is 48 meters, complete restoration of pump Mechanics
Pump 7: Depth is 30 meters, complete restoration of pump Mechanics
Pump 8: Depth is 36 meters, complete restoration of pump mechanics
While the mechanics do the physical pump repairs, the team of Volunteers leads a community-wide education/training session with a local language translator. One component is health specific in which hand washing, water storage and food preparation techniques are discussed. Diarrheal diseases, their effects on the community, and the relative burden felt in the region of Togo are discussed. The importance of soap, or ash if soap is not easily available, is discussed. The impact of hygiene on health, including the health of others, particularly children, is discussed. The last component of this portion of the training is a physical demonstration of the proper hand washing techniques.
The Volunteers also talk about nutrition in respect to food security, the importance of a variety of fruits, vegetables, and meats for everyone, and the positive effects of good nutrition and overall health. The development of gardens and the use of plants with high nutritional impact, such as Moringa, are discussed.
Each community is also given 20-30 Moringa saplings to plant around each pump. This is for added nutritional value, but also can be used as a source of income for the communities which they can put towards future pump repairs.
The final component of the Volunteer training is regarding gender equality. A skit is performed which highlights the difference in workload between girls and boys, and the overall effect that has on their academic performance. After the Volunteers finish the skit itself, the head pump mechanic talks to the communities in local language about the long-term effects this disparity has on families, but also the communities as a whole. He is very passionate about gender work in Togo, and we have found that communities are more engaged in these discussions when it comes from him as opposed to the Volunteers. He is a very strong asset to the project, both in the physical repairs of the pumps as well as his passion for these issues.
Project Impact
15,000 people will benefit from the project
Peace Corps Volunteer Directing Project
Marguerite Clougherty
Monitoring and Maintenance
The final stage of the pump project is follow-up. Three months following each repair, the pumps are visited by Kader, the other head mechanic, and the primary Volunteer. They check to make sure the pumps are still in good condition and working properly, as well as check in with the water committee to ensure they are still collecting money for maintenance visits. In the event a pump is not working, the mechanics repair it again free of charge for the first year. If the pump is working, the mechanics will revisit each pump every six months for bi-annual maintenance and a check-
Each village collects money either by the basin or by person per month. This ensures they have money for the maintenance visits as well as for future repairs should the pump break again.
Let Girls Learn
It is very challenging for some women to have time for income-generating activities, and it is very challenging for girls to have ample time to study and excel in school. These are two major factors in the delayed development of all of the communities.
While this is not an official Peace Corps Let Girls Learn project, we have designated it Let Girls Learn Plus, as it carries with it the same goals, objectives, and methodologies to create conditions that make it easier for girls to start and remain in school.
Fundraising Target
$6,700
Funds raised in excess of the project amount will be allocated to other projects in the country.
Donations Collected to Date
$6,700
Dollar Amount Needed
$0 – This project has been fully funded by an anonymous donor.
Additional donations will go to other projects in Togo.
This project has been completed. To read about the conclusion of the project, CLICK HERE.