Conclusion of Yallal Ba Pump Project – The Gambia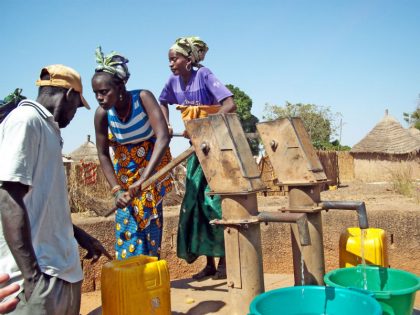 This project has been completed under the direction of Peace Corps Volunteer Leah Spare. To read about the beginning of the project, CLICK HERE.
The project was to repair the broken pump serving the women's garden.
Leah reports:
Juma Bah, my village counterpart, and another elder, Samba, were given the responsibility to purchase all of the parts.

All but two parts were offered in nearby town, Farafenni. To buy and transport the parts to our village took nearly thirteen days. The two additional parts took three and a half weeks.

The only location that had the two bearings was in the capital, Banjul. Traveling to the capital is costly for the villagers. I tried to travel once to buy the two bearings, but the shop doubled the price of each bearing because I was a white woman. Juma and the elders told me not to buy them.

Eventually, a villager now attending the college in Banjul was able to buy the parts. He sent them to us through a bush taxi.

As soon as the village received the two bearings, the mechanic, who lived in Numa Kunda, the next village over, was informed. The very next day the pump was fixed!

About six hundred dalasi was saved from bargaining for the materials, which was put into the Yallal Ba Youth Development bank account for future maintenance.

One million thank you's from all of the women who now use the pump for their gardens and their cooking and washing of clothes. The women's garden is underway with peppers, cucumber, squash, and ocra. Thank you, thank you, Jarema!