Conclusion of Sare Sawadi Well Project – The Gambia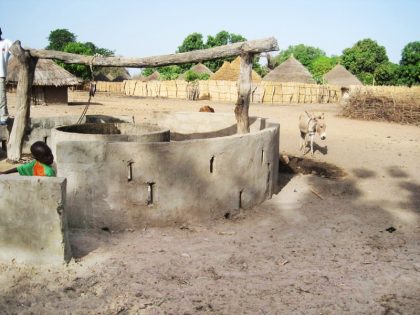 This project has been completed under the direction of Peace Corps Volunteer Fern Aguda-Brown. To read about the beginning of the project, CLICK HERE.
The project was to make repairs on the hand pump and the open well to create secure, sustainable and clean water sources for the village.
Fern reports:
The VDC organized a meeting to discuss buying and transporting the supplies. A few days later, my counterpart, Samba Kandeh, and I rode bikes to Bansang to buy supplies. Two compounds sent donkey carts to meet us there and bring back supplies. We bought the supplies and brought everything back to the village.

That night the village had a meeting and expressed gratitude and excitement with the supplies. They chose three specific days to do the construction. I was there on the first day, but for the next two days I had to travel. I kept in contact with Samba and the VDC chair, Saidu Jawo, while I was away. The village fully took on the project organization and progression without me around, which is exactly what I had wanted. I came back to find the two wells fully repaired.

The completed fence and floor of the open well are now protected and ready for rainy season and should be safe from any damage that the strong rains could bring.

The pump interior repairs were made by an outside pump technician.

Since the completion of these two projects, the VDC has taken on fixing the pump fence, which just recently fell. They held village meetings and every compound agreed to pay a set amount. This just shows the excitement and commitment to the wellbeing of the village they felt from completing the other projects. I am so impressed with the work they did and their continued enthusiasm.

Thank you so much in your assistance.
Thanks to Fern for completing the project and to The Soneva SLOW LIFE Trust for providing the funding.