Nyankui Well Garden Project – The Gambia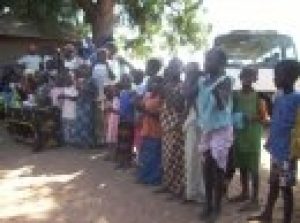 Location
Nyankui Village, Sandu District, Upper River Region, The Gambia
Community Description
Nyankui is a small village located in the Gambian bush consisting of roughly 1027 people. Nearly every person in the village earns an income by farming or selling vegetables at the local market.
Nyankui has a hard-working, incredibly active women's group with 135 members, a Village Development Committee that meets regularly, and an enormous community garden that is worked on by members of the women's group.

Although there are 4 garden wells in Nyuankui, only one is functioning through the dry season.
Project Description
This project is to build a well to provide irrigation for the community garden. The well will be dug by hand to a depth of 10 meters, sufficient to provide water year-round.
Project funds will be used to purchase the materials, including cement, wire, gravel, and sand.
Project Impact
1000 people, consisting of 135 women who participate in the project, their families, and other members of the village, will benefit from the project.
Peace Corps Volunteer Directing Project
Kasey Pendexter
Comments
A garden well provides more than just water to irrigate a community garden. It provides the means to grow crops all year, leading to better health, an economic opportunity, and the empowerment of a group of dedicated women.
Dollar Amount of Project
$469.23
Donations Collected to Date
$469.23
Dollar Amount Needed
$0.00 – This project has been fully funded, through the generosity of the friends of Kasey Pendexter.
We encourage others to continue to donate using the Donate button below, and we will notify Peace Corps Volunteer Kasey Pendexter of your donation. Additional funds will be used to fund the next project by Kasey and/or those of her counterpart PCVs in The Gambia.

This project has been completed. To read about the conclusion of this project, CLICK HERE.