Njoben Health Clinic Water Project – The Gambia
Location
Njoben Wolof, Central River Region, North Bank, The Gambia
Community Description
The Njoben Health Clinic is located on the paved road outside the village Njoben Wolof and close to the village of Jallow Kunda. The clinic provides care to the surrounding villages, including villages in Senegal.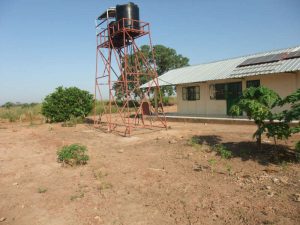 The Holland Rotary Club built the clinic to provide health services to the area. There is a solar-powered Lawrence Pump system that provides clean water for patients and those living close to the clinic.
Problem Addressed
Currently, the pump is not working. Water is now hauled in from the village of Njoben (open well) and also from another pump about 1/4 mile away close to Jallow Kunda.
A woman who delivers her baby must travel home to wash. The staff members living at the clinic do not have clean water for drinking and personal hygiene.
Project Description
This project is to replace the pump at the Njoben Health Clinic.
The water system for the clinic consists of a Lawrence Pump, powered by solar panels, two holding tanks, and piping connecting the components.
The tanks and solar panels are mounted on an elevated platform. The panels provide electricity to the pump, which is submerged in the well. The larger tank supplies the clinic while the smaller tank supplies the communities in the area.
The pump raises the water to the level of the platform, and running water is available for the clinic powered by gravity. There are spigots at each end of the back yard of the clinic.
The new pump is available locally, and the installation will be done by a skilled worker. Water Charity funds will pay for the pump and other necessary materials. The clinic staff will help support the project by donating about $185.00 US.
Project Impact
This project will benefit the almost 1,000 patients per month who come to the clinic for services, plus the six staff members who live at the clinic.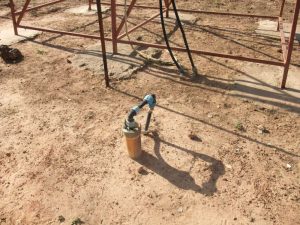 Peace Corps Volunteer Directing Project
Lisa Helm
Comments
The project will provide the patients and the staff at the clinic with clean water for drinking, washing hands, and the bathing of women after deliveries.
Dollar Amount of Project
$760.00
Donations Collected to Date
$760.00
Dollar Amount Needed
$0.00 – This project has been fully funded through the generosity of friends and family of Peace Corps Volunteer Lisa Helm.
This project has been completed.