Conclusion of Niamina Dankunku Area Pump Project – The Gambia
This project has been completed under the direction of Peace Corps Volunteer Jeremy Mak. To read about the beginning of the project, CLICK HERE.
The project was to rehabilitate two Mark II handpumps in the Niamina Dankunku Area.
Jeremy reports:
I'm writing to let you know that we successfully concluded the Niamina Dankunku Area Pump Project on March 31, 2012. On March 10, 2012, a replacement cylinder casing, a new chain, handle axle, and cylinder seals were installed at the handpump at Brikama Lefaya. The Fula community of 50 children, women, and men now has a better functioning pump with a high output of water last seen 7 years ago.

On March 28, 2012, new handle bearings and a new axle was installed on one of the Niamina Dankunku Health Center pumps. Before repair, the handle was grinding crookedly against the well casing, getting damaged in the process of operation. The health center's solar pump has long fallen into disrepair, and the community's solar borehole is turned off at night. The handpump is the only reliable source of water for overnight patients and their families from the surrounding 25 villages.

Adding new parts has extended the life of the handpump and made it easier for patients to secure water for their health and hygiene needs. Dankunku Health Center head Al-Haggi Marena states, "Having a reliable source of clean water is very important for the health of our patients. Fixing our pumps is something that is needed not just for us here in Dankunku, but for all of the 26 villages who depend on our services here."

The hospital is still locating the disassembled parts for the remaining nonfunctioning pump for us to inspect for a possible future repair.

Well technician Saja Jadama repaired the Lefaya and Dankunku pumps.

On March 31, 2012, with the help of Choya-based technician Demba Jallow, we fixed the handpump of Sara Sambel, a Fula community of 7 compounds and 94 people, located in Niamina West District. New cylinder seals, handle bearings and axles, and chain were installed. The original pump and parts were installed in 1999 as part of a joint ADB/Government of The Gambia Emergency Flood Relief Program. Since then, the pump had only seen servicing twice with secondhand parts. The repair of this pump was not only crucial for Sambel residents, but also for Choya, a larger community that is experiencing severe issues with its Mark II pumps.

At times, water is such a problem that Choya women and girls need to trek 2 miles to Sambel to fetch water. After trying the pump after repairs were finished, Dadu Jaow, one of the village matrons exclaimed, "Oh, now it's sweet! Thank you very much!" Saikou Bah, the village head, expressed his gratitude, "Thank you to your friends at Water Charity. We here at Sara Sambel are poor and do not have very much. Anything you do to help us with development like repairing our pump is great."

Water Charity funds have also supported the initial inspection of 7 other pumps Central River Region in need of repair in Sinchu Jaabo and Kaani Kunda, Badibu District, North Bank; Touba Murit and Naani Kunda (Dankunku District, South Bank), and Choya (Niamina West, South Bank). Some additional parts needed to fix/maintain these pumps were purchased, including 2 cylinder repair kits, 1 handle axle, 7 handle bearing kits (bearings are the first thing to break in these Mark II pumps). Hamad Cham, a skilled welder and blacksmith from Sambang, Dankunku, has been dispatched to Choya to assess if the handles and handle casings of Choya's pumps can be fixed.

Thanks again to Water Charity and its donors for the support of water relief in Central River Region South, The Gambia!
We are grateful to Jeremy for promptly completing this project, and again wish to thank the Elmo Foundation, with help from Rosanne's friends, for providing the funding.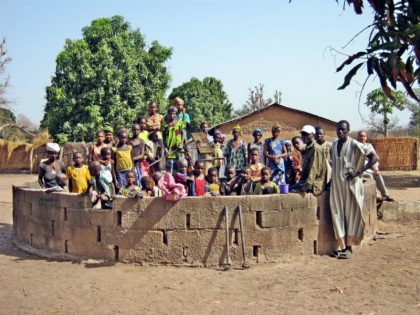 ***