Niamina Dankunku Area Pump Project – The Gambia
Location
Dankunku District, Central River Region-South, The Gambia
Community Description
Dankunku, a predominantly ethnic Mandinka village, is the center of Niamina Dankunku District, and is located 10 km off the Trans-Gambia South Bank Highway in the Central River Region, The Gambia. The population is comprised of roughly 2,000 residents coming from 140 or so compounds. Mostly subsistence farmers, in the rainy season residents grow coos, groundnuts, and rice.
However, because of poor dike management and torrential rains, much of 2010's year's rice harvest was lost. 2011's harvests were very poor because of extremely limited rain.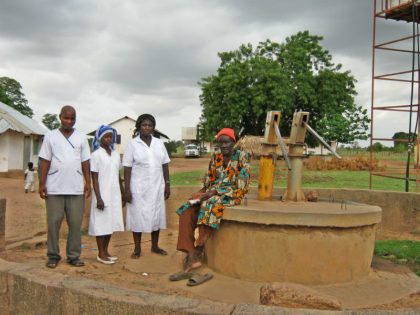 With most of the populace making less than $1 USD per day per capita, only a few compounds can afford to run generators for electricity, and only a handful have solar-powered lights. A lower basic cycle school offers education up to grade 9 for children in the area that come from up to 10 kilometers away, and the village's health center serves 60 communities in the surrounding area with basic medical services. Five "bitiks" sell small consumer goods, like soap, cigarettes, and oil, and a few women make brisk business selling dried fish and seasonal vegetables. A much wider array of goods is available at weekly markets in nearby Jarreng and Bureng.
A solar borehole with 14 distribution taps was installed in 2007 as part of a rural water supply grant aid program from the Government of Japan. Each household contributes 30 dalasis (a little over $1) a month to pay for the upkeep of the system. However, many taps routinely leak or break altogether, and the pipes are corroding from the inside out.
Dependence on this solar borehole and distribution system over the years has allowed residents to overlook maintaining their handpumps and open wells. Out of village's 9 handpumps, only 4 work, (7 need repairs, and 2 have had various parts stolen). In the whole district, more than half of the handpumps need repair. Out of its open wells, only one still functions, primarily to water cattle from nearby Fula Kunda.
Should the solar borehole ever fail, there will be an acute water shortage. In addition, as a condition of receiving the borehole, residents are not officially permitted to use it for gardening or livestock purposes, although one group of women have informally started a dry season women's garden and many others have personal home gardens. If more water were available on a yearly basis, garden production would likely skyrocket, giving a much needed source of income to local women.
Dankunku's Health Center is also experiencing difficulties with water. Although it provides basic medical care and reproductive and child health services for the 2,000+ residents of its namesake, as well as more than 60 other villages in Niamina Dankunku and Niamina West Districts, it is not hooked up to the community's water system.
The health center's facilities are in dire need of repair. Its solar water system broke over a year ago, one handpump has been stolen, and another one, although working, is in need of repair. "Water is our biggest problem," says community health nurse and midwife Ablie Jallow. "We need water in our clinic, especially our maternity ward. Without enough water, it's difficult to wash our hands to curb infection, much less disinfect our instruments."
Despite official assurances that the center's solar pump will be repaired, it has not yet been fixed. Currently, the health center uses water dispensed from the one remaining handpump. Servicing will allow the pump to deliver more water reliably.
Sara Sambel is a traditional coos and groundnut (peanut) growing and cattle-rearing Fula community that lies about 7 kilometers south of Dankunku, with about 10 compounds. Because of its small size, Sara Sambel has largely been left out of development projects. Unlike Dankunku, Sara Sambel does not have a solar borehole, but rather depends on a single Mark II handpump for its water needs. No maintenance has ever been done on the pump. Its well mechanism is rickety and only a limited amount of water comes out.
Project Description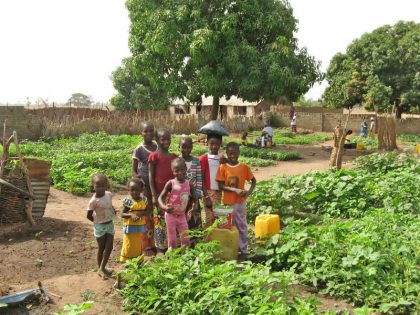 This project is to rehabilitate two Mark II handpumps in the Niamina Dankunku Area, one at the Dankunku Health Center and the other at Sara Sambel.
The project will be undertaken under the direction of the Dankunku Health Center and the Sara Sambel Development Council.
Appropriate Projects funds will be used to purchase the well parts-repair kits for cylinder seals, handle bearings and axles, and new chains. Funds will be used to purchase Mark II handpump parts such as cylinder repair kits (1,650 dalasis each), pump chains (1,350 d/ea), and handle axles(750 d/ea), handle bearings (350 d/ea), spacers, and housing bolt nuts. Modest transportation costs to cover travel to and from the spare part dealer in Banjul, the Gambian capital, as well as to Sara Sambel, are also covered.
All pumps will be serviced by Saja Jadama, a Dankunku native, who was trained for 7 months as an area well mechanic by the German NGO GITEC in 1992. He will supervise and implement repairs. He has all the necessary tools to disassemble and assemble well components.
Returned Peace Corps Volunteer Jeremy Mak will oversee the purchase and transport of spare parts from Banjul, Gambia's capital, to the site, as well as document receipts and all spending.
Recipient communities will pay Mr. Jadama's honorarium (15 dalasis per hour of work) and assist with transporting Mr. Jadama's tools to the site.
Should any leftover funds allow for it, another handpump, either at the Dankunku school or at Sara Wallom, an 8 compound community will be fixed.
Project Impact
2,050 people will directly benefit, and 5,000 people will indirectly benefit from the project.
Peace Corps Volunteer Directing Project
Jeremy Mak, Returned Peace Corps Volunteer
Comments
This project exemplifies the dedication of Peace Corps Volunteers to their communities and their needs, even after their service has been concluded. It is the most basic and effective way to ensure the delivery of needed water to these underserved communities.
Dollar Amount of Project
$555.00
Donations Collected to Date
$555.00
Dollar Amount Needed
$0.00 – This project has been fully funded, through the generosity of the Elmo Foundation.
We encourage others to continue to donate using the Donate button below, and we will notify the Peace Corps Volunteer of your donation. Additional funds will be used to fund the next project by the PCV and/or those of other PCVs in the country of service.
This project has been finished. To read about the conclusion of the project, CLICK HERE.