Conclusion of Kuraw Arafang Community Garden Project – The Gambia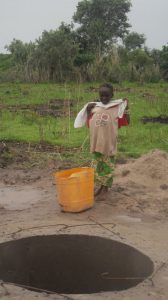 This project has been successfully completed, under the direction of Peace Corps Volunteer Kasey Pendexter. To see the history of the project CLICK HERE.
The project was to build a new well to irrigate the community garden.
Kasey reports:
Despite having a torrential downpour 10 out of 16 days, Sanna and his well-digging crew have managed to complete the Kuraw garden well. I was shocked to see that it was possible to dig a well during the infamous 'Rainy Season' of The Gambia.

Nearly every day, after spending the morning in their fields farming, the men would eat lunch at the garden and work straight until 5 o'clock prayer call. On a few different occasions, I would bring them a breakfast of tea and bread, then sit and chat with them about their work.

There were 4 men total actually making the well, but several women would come to lend support and bring food. A couple even helped to scoop bucketfuls of water out of the well so the men could dig deeper.

The well is absolutely beautiful and full of water. It inspired the village to raise money to hire a tractor for the day, in which a man came and completely retilled the garden, leaving a small patch alone where planting had already begun. The garden now looks ready for vegetables and banana trees to begin growing.

Susan reported on the reaction of the community to the well:

My host mother, in particular, could not say enough in her gratitude. "America is so good," she recently said to me. "I knew that by the grace of Allah, there would be a well in this garden. I would plant even when there wasn't a well there, but now that there is, it doesn't take as much time and I can farm my peanuts without worrying about what's going on in the garden! Thank your home people for me, Isatou."

Several other women stopped to tell me that this well looked "very strong" and they wished they had this kind in the enormous community garden. We talked a bit about raising funding for that as a village, which brought them to the point that now they could grow vegetables, sell them, and try to save the money. It was all very exciting.

Also, Sanna [the well-digger] was incredibly kind, supportive, and efficient. He worked hard, pushed his men to come to the garden even though they were exhausted from farming, and did all this with a smile on his face. Had I not done this project, I would not have met such a wonderful member of my community!

Thank you again for this wonderful opportunity, from myself and my village. This well will last for many, many years, and, Inshallah, will bring them healthy vegetables that they can make a profit from!
We again wish to thank Benjamin Clark and the friends and family of Kasey Pendexter for providing the funding for this project.