Kuraw Arafang Community Garden Project – The Gambia
Location
Kuraw Arafang, Sandu District, Upper River Region, The Gambia
Community Description
Kuraw Arafang is a small Mandinka community of about 850 residents located 3 km from the River Gambia. Mandinkas are known for their impressive farming and gardening abilities.
The Village Development Community, consisting of the village elders, oversees all projects, from design through completion.
The women's kafoo (women's gardening group) has more than 300 members of strong, hardworking women of all ages. Vegetable selling and farming are two of the most profitable markets in Kuraw.
Kuraw has three large gardens. Since the women's group is expanding, and men are beginning to pick up gardening, a field has been cleared and fence put for a new garden.
Planting has already begun. However, presently the villagers are forced to carry large amounts of water in buckets atop their heads from the nearest well (approximately 0.5 km away) for the watering of the plants.
Project Description
A new well will be built to irrigate the garden. It will be dug to a depth of 6 meters by Samba, a local well digger.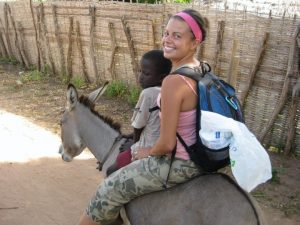 Project Impact
Approximately 850 people will benefit from this project.
Peace Corps Volunteer Directing Project
Kasey Pendexter
Comments
The new garden well will make the villagers more productive, as they will be relieved of the need to carry water from long distances. This will result in a great savings of time and energy, which can be utilized to a much greater advantage.
This garden well project follows up on a similar project undertaken and completed in another community by Kasey. It exemplifies our premise that successful projects should be replicated for maximum benefit.
Dollar Amount of Project
$500.00
Donations Collected to Date
$500.00
Dollar Amount Needed
$0.00 – This project has now been fully funded through the generosity of Benjamin Clark, South Portland, ME, with the help of friends and family of Pendexter.
We encourage others to continue to donate using the Donate button below, and we will notify Peace Corps Volunteer Kasey Pendexter of your donation. Additional funds will be used to fund the next project by Kasey and/or those of her counterpart PCVs in The Gambia.
This project has been finished. To read about the conclusion of the project, CLICK HERE.