Conclusion of Kerr Jarga Jobe Pump Repair Project – The Gambia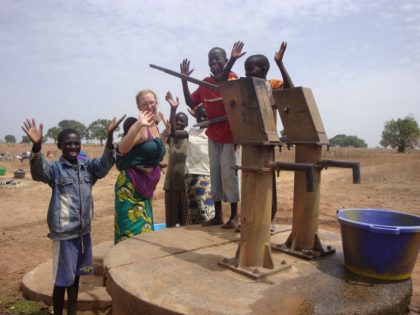 This project has been completed under the direction of Peace Corps Volunteer Lindsey Green. To read about the beginning of the project, CLICK HERE.
The project was to repair a pump in the village.
Lindsey reports:
I am writing to let you know that the Kerr Jarga Jobe Pump Repair Project was completed.

Upon receiving the money, Area Councilor Lamin Mbowe, VDC committee member Mbaye Mama Jobe, and I went to purchase the parts in Banjul, The Gambia. The majority of the parts needed were readily available but the "repair kit", which was needed to expedite the pumping process at the hand pump was not available in the country and needed to be ordered from Germany. Therefore, we had to wait for the part to arrive.

Mbaye Mama Jobe traveled back to Banjul twice to check on the part. Finally, when it was still not available in the middle of May, we called the repairman from a nearby village and asked him to attempt to fix the pump without that part.

The repairman came the following day and inspected the pump and determined that he could do the work without the part. He then repaired the chains and pumping mechanisms within both hands of the hand pump. Repairing the second pump was an additional repair that we had not anticipated being able to finance. Now both of the hands on the hand pump are fixed and when the "repair kit" is available the VDC has committed to paying for the second-hand pump to be fixed with a "repair kit."

The community has been extremely excited about the project's completion. As the rainy season approaches, drawing water from the solar taps becomes much more difficult because the sun does not shine as brightly or for as long. The repair has now made two hand pumps available in the village and greatly reduced the strain put on women and girls when fetching water.

Many community members have sought me out to thank Water Charity for the assistance provided in repairing the pumps. They are eager to make improvements to another hand pump in the village. The VDC is attempting to implement a water fee for each compound in the village in order to have a more sustainable way to make repairs to the hand pumps, other than relying on outside assistance.

The community of Kerr Jarga Jobe and I thank you very much for the support provided.
We wish to thank Lindsey for completing this project, and again extend our gratitude to The Soneva SLOW LIFE Trust for providing the funding.