Conclusion of Ker Njugarey Pump Repair Project – The Gambia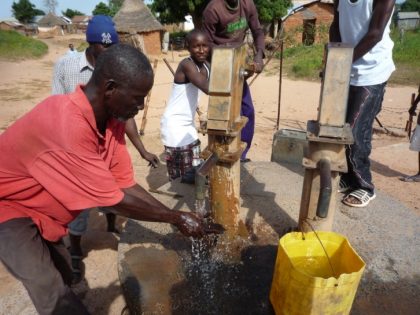 This project has been completed under the direction of Peace Corps Volunteer Wells Brown. To read about the beginning of the project, CLICK HERE.
The project was to restore an existing hand pump well to working order.
Wells reports:
As of Thursday morning the overhauling and maintenance process was completed and the men and women were able to fetch their water for drinking, bathing, cooking, doing laundry and watering their animals. The entire process, which took the better part of Wednesday and Thursday morning, saw the overhaul and replacement of: 17 mm chain, bearings, grease and anti-seize paste, axle, rod couplings, rod guides, check nuts, pipe threading, rubber gaskets, end piece springs, sleeve and new end cap. After all was said and done we were able to improve the action of the pump, making it more efficient and less labor intensive while also improving the vacuum with which water was lifted.

Throughout the entire process the VDC and elders council was sitting under a nearby tree watching and supervising the work, makings sure that the laborers were fed watermelon slices, attaya tea and water from a distant pump. After the work was completed on Thursday the laborers were fed a meal of Benechin and ram meat courtesy of the village Alkaloo while the village religious leader led everyone in prayers.

As for moving forward and working to keep the pumps in working order, the VDC has created a payment system in which every compound will pay 5 Dalasi a week towards a collective pool that will be able to purchase any necessary parts in the future. The amount of 5 Dalasi is small, so as not to be a burden on the people, but will also add up very quickly to a generous amount of money.

I have the greatest confidence in the people of Ker Njugarey and know that they will treat their new pump with respect, while also working towards a sustainable process in which they will not have to rely on the generosity of strangers.

The people of Ker Njugarey express their greatest thanks and prayers for the financial support provided to them. They want it to be known that they prayed for all of the generous people who donated their hard earned dollars to people that they have never met, all in the name of clean and easy access to water. And I too, would also like to express my thanks and happiness as this was another highly successful project.
We wish to thank wells for completing this project, and again extend our gratitude to The Soneva SLOW LIFE Trust for providing the funding, and to the Elmo Foundation for providing additional funds for future projects.