Conclusion of Jama Sinyan Pump Repair Project – The Gambia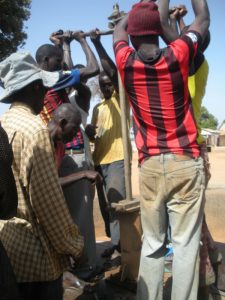 This project has been completed under the direction of Peace Corps Volunteer Jessica Trnkus. To read about the beginning of the project, CLICK HERE.
The project was to repair a water pump in the village of Jama Sinyan.
Jessica reports:
Jama Sinyan pump repair project has successfully been completed. The internal mechanism has been reconnected, allowing the water to be pulled up through the cylinder.

The Village Development Committee (VDC) was responsible for purchasing the pump parts necessary for the repair. On May 15th the VDC bought the parts from Serekunda Market, KMC. Work was completed on May 17th by skilled community member, Ebou Sinyan, with the help of many village members, who helped dismantle the pump.

The parts purchased with Water Charity funds included: a cylinder repair kit, rod centralizers, chain, check nuts, rod couplings, bearings, cylinder sleeve, cylinder end piece, hemp, and anti-seize paste.

The women and children of Jama Sinyan had been forced to use the single open well to retrieve water. The open well is not only a taxing physical demand but is also an unsafe source of drinking water for the village. The fixed pump will now provide sanitary drinking water year-round.

The community's involvement showed the thanks they have for the pump and how much it is appreciated that it will ease their daily tasks and increase their water hygiene.

The completion of this project will increase food security as well as the quality of life of the members of Jama Sinyan. It will directly affect those women and children utilizing the pump and indirectly affect the whole village in the consumption of the water. It will give access to potable drinking water and also allow community members to become more self-sufficient.
We are grateful to Jessica for completing this project, and again extend our thanks to Child Relief International for providing the funding.