Conclusion of Darsilami Mandinka Pump Project – The Gambia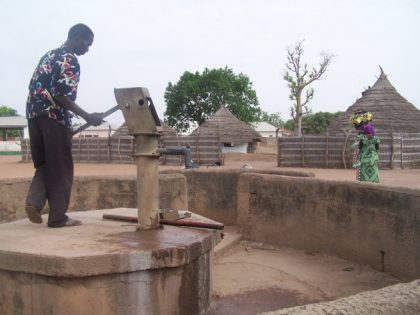 This project has been completed under the direction of Peace Corps Volunteer Elizabeth Thompson. To read about the beginning of the project, CLICK HERE.
The project was to repair the non-functioning hand pump to provide potable water for the village.
Elizabeth reports:
This project was to repair one of the two hand pumps in the village of Darsilami Mandinka. Although the project did not take a long time to complete the urgency and cost of repairs were the issue.

The other hand pump in the village was in working condition but the water was not potable. The two taps in the village were also broken and were only turned on during certain times of the day (a generator was used to power them). So, time was an issue.

The remedy for the problem also happened to be a very expensive piece of the pump that was only available in the capital city of Banjul, which is a two day trip. With the help of Water Charity we were able to secure the piece, transport it to the village and pay the technician that was trained to fix this specific type of pump.

We were also able to repair one of the other taps.

The village now had potable water to drink.
We are grateful to Elizabeth for completing this project, and again wish to thank The Soneva SLOW LIFE Trust for providing the funding.