Darsilami Mandinka Pump Project – The Gambia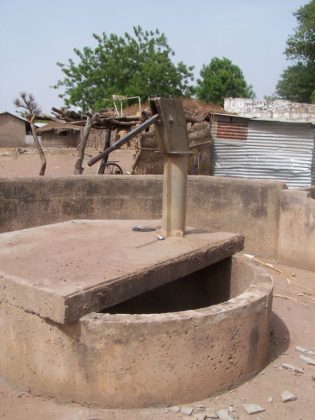 Location
Darsilami Mandinka, Sandu District, Upper River Region, The Gambia
Community Description
The village of Darsilami Mandinka is a steadily-growing community located in the Upper River Region of The Gambia. The village is mostly made up of farmers who grow a variety of crops, fruits, and vegetables to support their families.
In the past five years, the village has seen much growth and development. They have built a school and clinic waiting for the shed. With a rising population, they are constantly seeking out extension workers to aid them in the development of their community.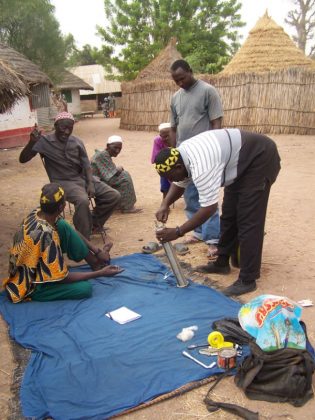 In the past, the Village Development Committee (VDC) has worked with various NGO's including the World Bank to fund four water sources in this village of 1,0000. Two solar taps are used for drinking water, but at best are turned on only for a few hours during the day. They have recently failed completely!
There are two hand pumps. One of them is in working condition but is not suitable for drinking but only for bathing and washing clothes. The other hand pump provides potable water, but has fallen into disrepair.
Project Description
This project is to repair the non-functioning hand pump to provide potable water for the village.
If the repairs can be carried out below the estimated cost, the savings will be used to repair one or both of the taps.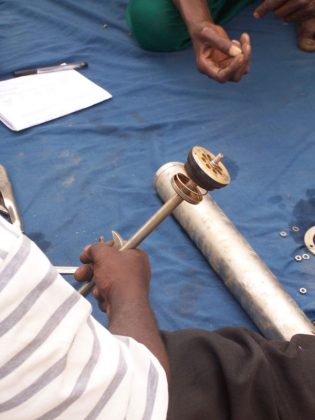 Project Impact
This project will benefit over 1,000 villagers.
Peace Corps Volunteer Directing Project
Elizabeth Thompson
Comments
This is a second project being managed by PCV Elizabeth Thompson. Her first project, the Kuwonku Well Project – The Gambia, was to build a well to irrigate a 1-hectare woodlot.
This is a critical project, of utmost urgency, as the village is presently without potable water.
Dollar Amount of Project
$460.00
Donations Collected to Date
$0.00
ADOPT THIS PROJECT BY CONTRIBUTING THE DOLLAR AMOUNT NEEDED BELOW
Donations of any amount will be appreciated. The full amount will give you "naming rights", if that is something you would like.
Any contributions in excess of the Dollar Amount of the Project will be allocated to other projects directed by this PCV and/or projects of other PCVs in this country.
Dollar Amount Needed
$460.00
This project has been finished. To read about the conclusion of the project, CLICK HERE.