Conclusion of Dankunku, Fula Kunda, and Brikama Lefaya Pump Project – The Gambia
This project has been completed under the direction of Peace Corps Volunteer Jeremy Mak. To read about the beginning of the project, CLICK HERE.
The project was to rehabilitate 4 Mark II hand pumps in the Niamina Dankunku area. Jeremy had his Peace Corps service interrupted, but was able to pass the project on to others for completion.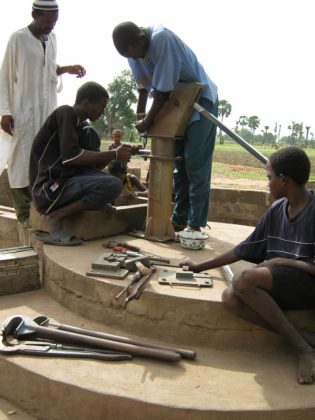 Jeremy reports:
In August 2011, Water Charity and Six Senses approved funds for the repair of 4 hand pumps in 3 villages in Dankunku Districts–1 at Brikama Lefaya, 2 at Fula Kunda, and 1 at the local health center in Dankunku proper. At this time, government funds were allocated to fix the broken solar water system at the clinic with connection to the village's large solar borehole as a back-up. This freed up more funds to not only repair just broken components of 3 hand pumps in Lefaya and Fula Kunda, but also upgrade worn parts for more comprehensive overhauls of water infrastructure that has seen virtually no maintenance in more than 10 years.

Replacement German parts were purchased in the Gambian capital, Banjul, from Omar Baji in Latri Kunda–he supplies many Gambia PCVs with pump parts. Three pump repair kits, 3 pump chains, 3 pump handle axles, 3 sets of axle bearings, new bolts and nuts to secure the pump housing, and grease and hemp (to seal out water from the pipe connectors) were bought, 2 sets for Fula Kunda, 1 set for Lefaya.

Saja Jadama, a Dankunku native trained and equipped by GITEC, a German NGO, in well repair 2 decades ago, implemented the repairs at Fula Kunda and Lefaya. He has completely repaired one of the pumps in Fula Kunda. The housing of the left pump has been disassembled after inspection so that the pump handle could be welded.

Mr. Jadama also disassembled and inspected the pump in Lefaya and oversaw the repair of the axle and replacement of axle bearings. In the near future, he will adapt the German pump repair kit to maintain Lefaya's Dutch pump.

Jaye and Miriama Jallow, from Lefaya exclaim, "There's a lot more water now. Now we don't have to work so hard to get water out of the ground and we're not worried about our pump breaking down. If we didn't get this fixed, we'd have to walk a long way for water."

Cherno Jallow, the alikalo of Fula Kunda, had the handle of the second pump welded, and now the village awaits Saja to return from traveling to complete the repair. Cherno expresses his gratitude to Water Charity and Six Senses: "Water is our biggest problem. No one else has come to help us before. Now, we have a lot more water for our cows and our women don't have to go to the next village to beg to use their borehole anymore. Thank you very much!"

Some of the lessons learned from this experience include planning out contingencies: Supply costs slightly exceeded the $550 budget, with PCV Jeremy Mak covering the difference. Another challenge to deal with was that after purchasing and delivering the parts, Jeremy's service was interrupted, and he was not able to carry out the capacity-building and education section of the plan to encourage locals to create a fund to pay for future repairs. Many thanks to fellow PCV Etienne Claude-Marcoux for assisting in the implementation of this project.
We extend our thanks to Jeremy and Etienne for completing this project, and to The Soneva SLOW LIFE Trust for providing the funding.