Conclusion of Central River Region Handpump and WASH Improvement Program – The Gambia
This project has been completed under the direction of Returned Peace Corps Volunteer Jeremy Mak.
To read about the beginning of the project, CLICK HERE.
This project was to improve water, sanitation, and hygiene conditions in the region, and specifically to focus on the repair and installation of handpumps.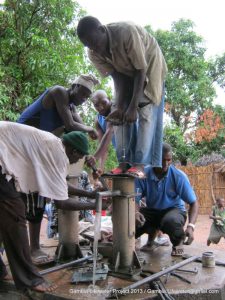 Jeremy reports:
The Central River Region Handpump and WASH Improvement Project has been successfully completed.

Originally, this year's Gambia Lifewater Project activities were designed to replace ageing Mark II handpumps in Gambian's rural Central River Region with new, improved Blue Pump technology. Many of the old, foreign aid-donated pumps in remote villages break due to poor maintenance and repair strategies, the lack of spare parts, and the absence of local knowledge and technical expertise.

If pump parts are not regularly replaced, this leads to mechanical failure. When pumps break, government and NGO assistance is usually unavailable. Villages become subject to the mercy of mechanics, who often use second-hand parts and overcharge. Communities either cannot afford repairs or are tired of paying for poor quality, expensive repairs for pumps that keep breaking down.

Desperate for water, locals sometimes pull out broken pumps, and revert back to using non-sterilized buckets and rope to draw water. In the process they contaminate protected water sources and return to using dirty water, exposing themselves to waterborne diseases. Thus, the cycle of poverty and ill health continues.

The recently developed Blue Pump is a durable and much more sustainable answer to these breakdown-prone pumps. They do not require regular spare parts, produce more water, and have much longer life-spans. From its rigorous assessment of handpumps, Oxfam has called the Blue Pump the best hand pump on the market today.

In summer 2012, three Blue Pumps were donated by the corporate sponsors of Fairwater, which manufactures the pumps, to Water Charity to install in three rural villages under the Choya, Si Kunda, and Kalikajara Pump Project – The Gambia. Additional donated Blue Pumps were expected in December 2012, and summer 2013, but supply issues impacted their availability.

Rather than postponing this pump repair project and wait for Blue Pumps to become available, this project shifted to repairing broken Mark II pumps and providing critical preventative maintenance to breaking and ageing pumps. As project plans had to unexpectedly shift, additional WASH side projects were postponed.

I volunteered to coordinate overall operations and supply chain management. Two local Gambians also served as key cogs in this project. Jaye Jallow led community relations and communications. Native to the area and fluent in the local Fula, Wolof, and Mandinka languages, Jaye helped villagers understand GLP's mission and assists in pump repair and installation planning. Jaye and I surveyed local villages and conduct preliminary inspections on pumps in need of servicing or replacement. Demba Jaow, a trained and certified local technician, supervised Mark II repairs.

The Gambia Lifewater Project was fortunate enough to receive generous funding from Child Relief International that allowed the organization to broaden from solely fixing broken pumps to also performing preventative maintenance. Parts that were not completely broken, but wearing down were replaced. Instead of purchasing just a small number of critical parts such as cylinder components, axle bearings, handle axles, and chains, GLP also replaced rod couplings and check nuts, as well as hardware.

Moreover, for severely damaged Mark II pumps, GLP also bought replacement conversion heads, water tanks, riser pipe holders and gaskets, pipe sockets, handles, cylinder end pieces, and rod guiding plates, in addition to tools and neo-fermit and anti-seize pastes (to protect parts again corrosion). By greatly expanding its stock of repair parts and supplies, GLP drastically raised its ability to perform higher quality repairs, leaving less worn out parts behind that could cause mechanical issues later. This elevated thoroughness of repairs translated directly into more robust rehabilitations and most importantly, more reliable water supplies for local communities.

In total, 23 pumps in 20 villages were repaired at an average cost of $375 each.

To see a map of 2013 pump repair locations, CLICK HERE.

This summer's work included rehabilitating ten pumps that previously broke down and were completely abandoned.

The initiative increased clean water access and restored water points for more than 10,000 women, children, and men.

For a complete list of Gambia Lifewater Project Summer 2013 Beneficiary Communities, with GPS coordinates, pictures, and videos, CLICK HERE.
We at Water Charity commend Jeremy for his outstanding work. We again extend our thanks to Child Relief International for providing the funding for this project, and to Beverly Rouse and Brian Lee for their additional contributions.