Conclusion of Clinic and Community of Ansampanimahazo Well Project – Madagascar
This project has been completed under the direction of Peace Corps Volunteer Katherine Barton Rivas.
To read about the beginning of the project, CLICK HERE.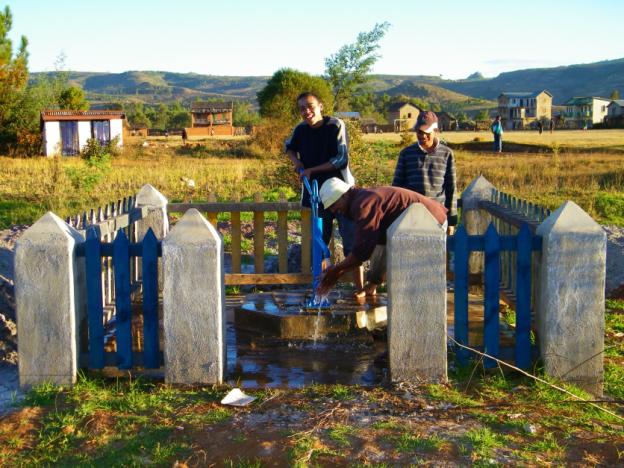 The project was to repair and improve the well at the Maternity and Health Center.
Katherine reports:
Thank you, Water Charity. The pump at the maternity center has been built and installed. I want to apologize for the delay of the report, but things in Madagascar can be extremely slow.

The first thing we did was buy all the materials needed. Most of the materials were bought in Ansampanimahazo, Antsirabe and Ambatolampy. Once we had all the materials, two men paid by the community started digging 22 meters.

Once the digging was finished and cleaned out, they started placing bricks at the top and covered 10 inches of the inside. The workers next placed all the small stones at the bottom to keep the mud from rising and cemented the bricks to the hole.

After cementing the top and inside of the hole, they started building a wooden frame to sustain the cement that would eventually become the cap for the pump. Once they were finished they started building a fence to protect the pump. Next, they painted the fence, and about a month later the pump was built and installed.

We had a few difficulties. First, the specialist was not able to come during March because he had a lot of work and lived in another city. Second, once the pump was installed it wasn't working because the hole was not deep enough and it was pumping mud. So, they had to uninstall it and dig 5 meters more, which was difficult because it is the rainy season. Nevertheless, the pump has been reinstalled and is working properly.

Thank you for providing healthy water for the local maternity and clinic in Ansampanimahazo.
We are grateful to Katherine for completing this project, despite the problems, and again express our thanks to Gayle and Mark Sullivan for providing the funding.