WASH FOR DEVELOPMENT VIA NONPROFIT PARTNERSHIPS – Water Charity – The Gambia

GambiaRising, Trees for the Future, and WASH for development
We believe liberating women and girls from the duty of fetching water is the key to real development. It frees up women's time for income production and girls' time for school. In our Sustainability and Development Plan & Fulabantang Ward Pilot Project, we partnered with two nonprofits. GambiaRising had financed the community building of five schools in the Fulabantang Ward and provides numerous scholarships and school-related services in the area. With Water Charity as a motivated partner, Trees for the Future launched a 4-year forest-garden project in the Ward, training more than 300 forest gardeners and furnishing them with nurseries, tools, and training. We recruited from the GambiaRising-affiliated schools' mothers' clubs to organize the women smallholding farmers, as well as to lobby for and enable education, particularly for the girls who would otherwise be made to tend to the household's water fetching duties.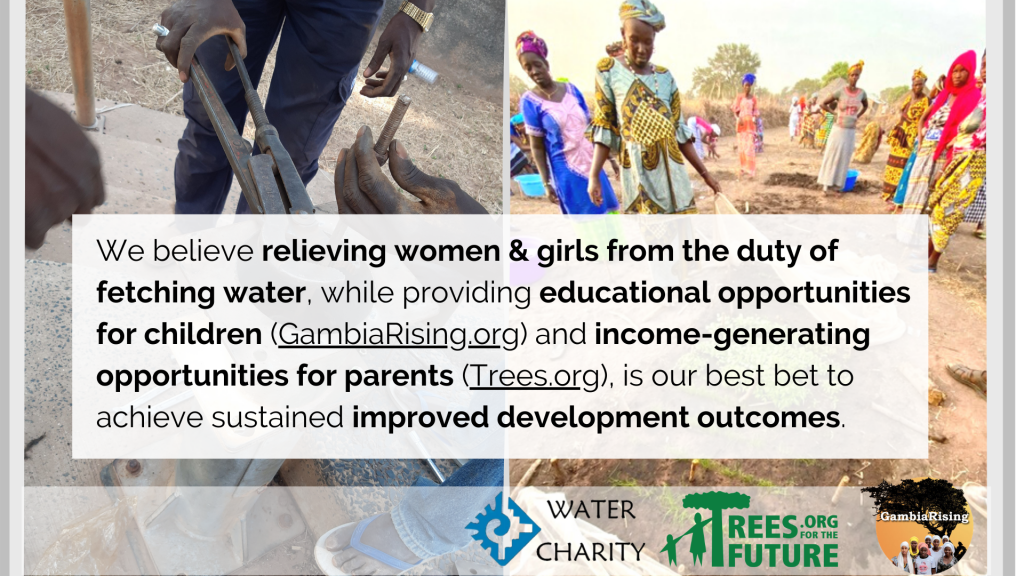 Trees for the Future provides all that it takes to farm smallholding forest gardens to assist in family smallholder-centric and female-centric income generation. By steering a portion of the resulting additional income toward a water maintenance fund, we seek to move from water-based relief to development. When farmers implement the Forest Garden Approach, their families have a diverse array of foods growing year-round. The improved quantity and quality of foods available lead to ending hunger and improving the nutritional status of families in a sustainable way.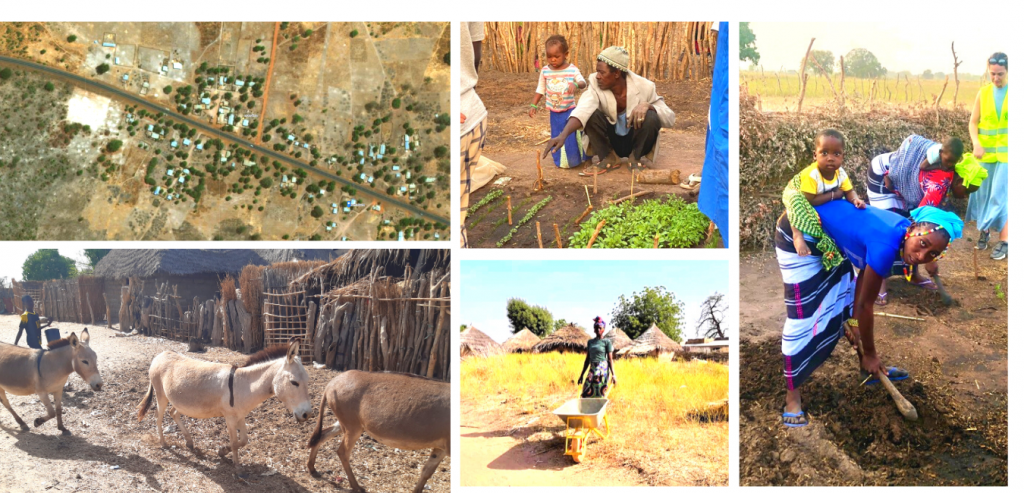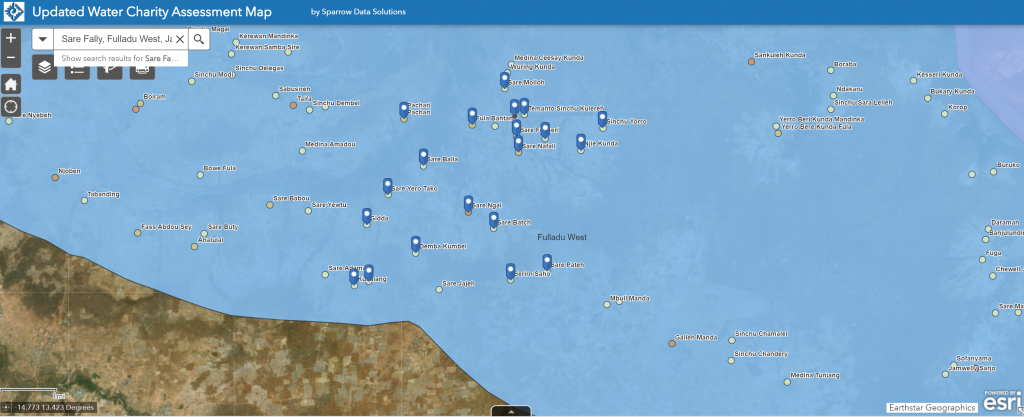 In September, 2019, Trees for the Future, Gambia Rising, and Water Charity started the first of its kind program in The Gambia: training 22 of the Fulabantang Ward's most talented gardeners to be forest garden trainers. GambiaRising financed the community building of several schools, two in the Fulabantang Ward, where our Trees for the Future Forest Garden project is now based. We made sure that women were well represented in the group of Fulabantang Ward Forest Garden Trainers.
If our Fulabantang Ward Sustainability and Development Pilot Project works, and with the help of Gambia Rising, we hope the water systems will be maintained so that girls can continue to go to school and women and other smallholder farmers can continue to increase their incomes and contribute to the water system's long-term maintenance fund. Meanwhile, we have fixed 32 water points in 24 villages in the Central River Region's Fulabantang Ward to water those forest gardens over the next four years of our Trees for the Future forest garden program.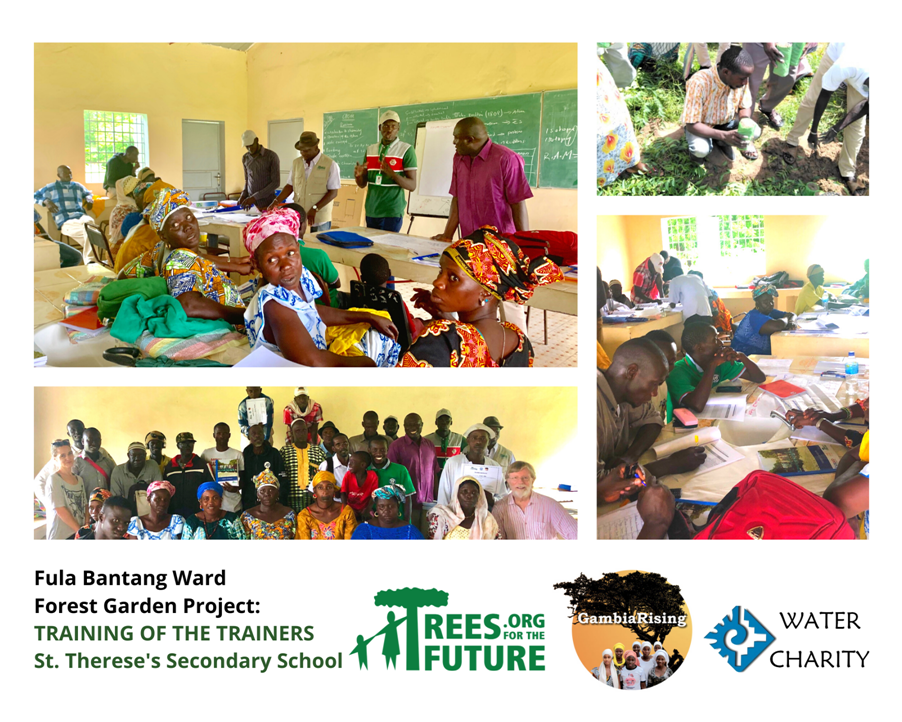 ---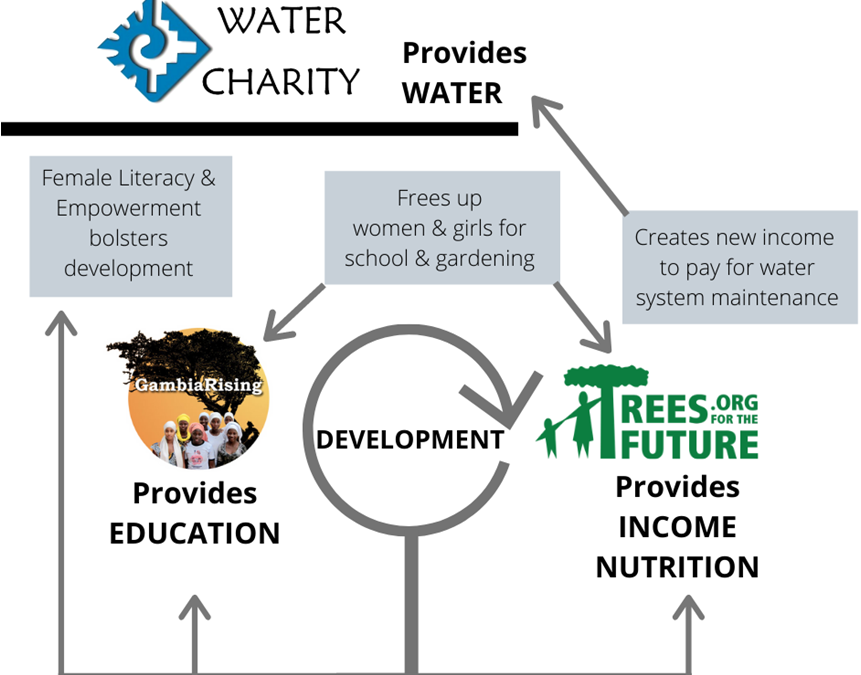 Our model adds to Water Access the components of Education and Income/Nutrition through partnerships with other NGOs.
---
Return to Water Charity – The Gambia landing page.
PLEASE VISIT OUR OTHER PROGRAM PAGES:
WATER ACCESS FOR WATER-CHALLENGED GAMBIANS
THE GAMBIA WASH CAPACITY AND GIS MAPPING
COVID-19 HAND-WASHING STATIONS IN THE GAMBIA
There is still a great deal of need for water access in rural The Gambia, so PLEASE DONATE TODAY USING THE BUTTON BELOW.