THE GAMBIA WASH CAPACITY AND GIS MAPPING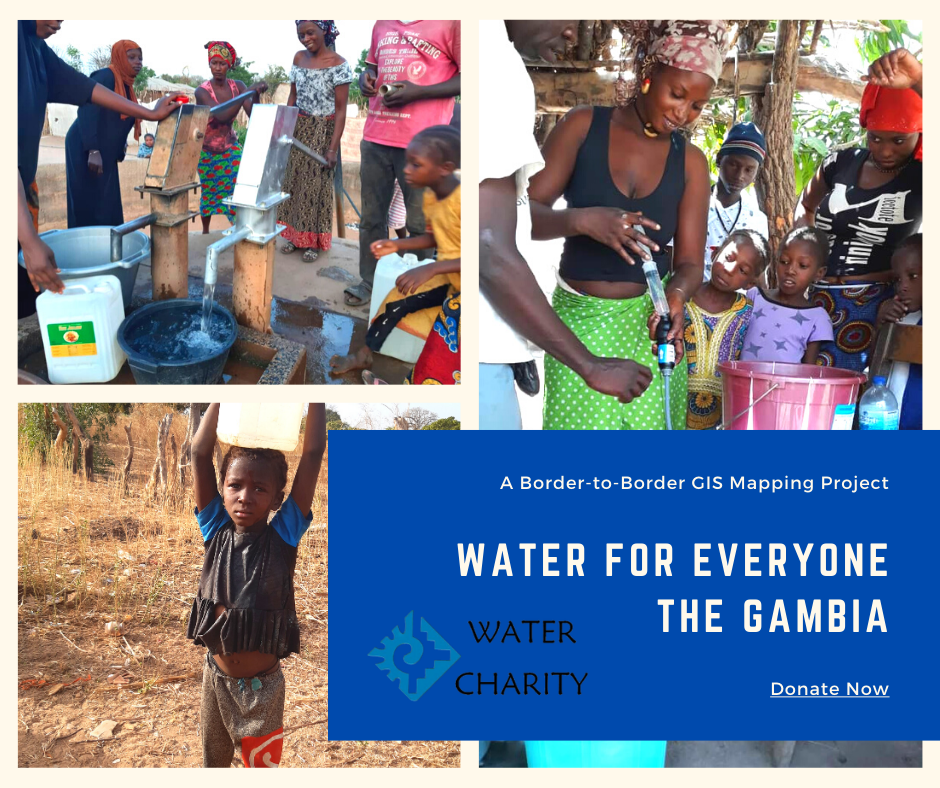 WASH GIS MAPPING
In each country covered by our Water for Everyone initiative, we recruited local WASH (Water, Sanitation, Hygiene)–related workers, trained them, outfitted them with GPS-enabled smart tablets loaded with our GIS water survey and a list of the villages, fuel for their government motorbikes, and a per diem. The surveyors took pictures and answered a series of questions about each public waterpoint in each village. In The Gambia, between December 2018 and October 2019, Water Charity surveyed a total of 1,690 communities and 1,511,232 people. Each surveyor is located in his or her region, so we continue to correspond about the status of water systems in their regions as a means of updating the map.
We are working to make our GIS water system user-friendly and accessible to different stakeholders with varying levels of access and authority. The web-based platform tracks the achievement of performance indicators and targets. This allows stakeholders to prioritize the most water-challenged Gambian communities. As we survey the country, we reach out to other sections of the national WASH Community. We apprise them of our mapping efforts, we show them our initial results, and we encourage them to share whatever data they may have regarding their in-country WASH interventions so that we may include their interventions on the map.

National WASH Capacity, Collaboration, and Development
We work to do this in collaboration with donors and the in-country WASH (water, sanitation and hygiene) community. We believe water projects are only sustained when the in-country WASH capacity is there to maintain them, and we have trained more than 150 WASH professionals in the use of tablets, in GIS surveying methods, in the use and distribution of filters, and on water testing methods. Because Water Charity not only surveys and maps but also develops and completes water projects, we found that WASH project planning benefitted greatly from mapping: not only with regard to using the map results, but also because of how the mapping effort itself enriches, deepens, and updates the knowledge of embedded regional staff.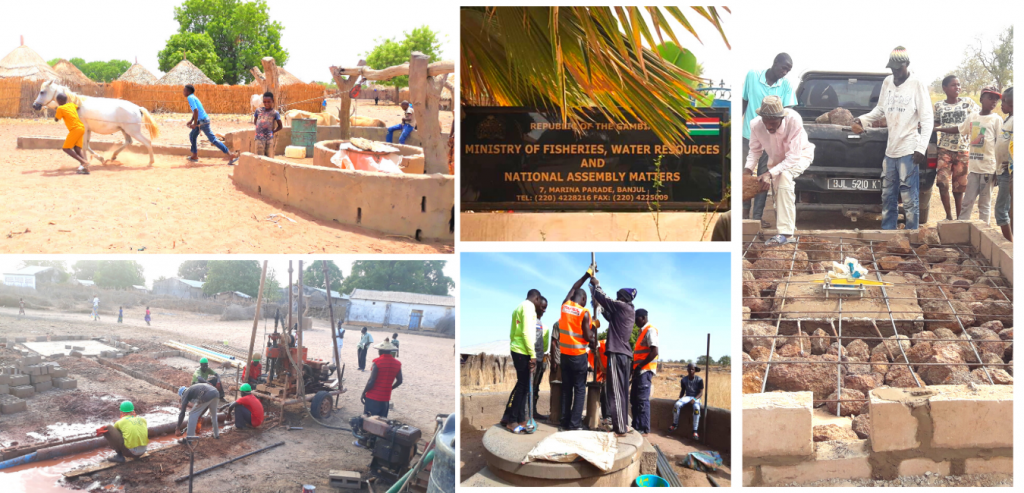 Outside of the collaborative and national benefits of GIS mapping, as an organization we developed a list of survey questions with the depth and breadth to allow us to: 1.) Triage water-challenged communities; 2.) Understand the broad scope of the work at each waterpoint; and 3.) Leave open the ability for wider development strategies over time.
There is still a great deal of need for water access in rural The Gambia, so please donate to our cause today.
Return to Water Charity – The Gambia landing page.
VISIT OUR PROGRAM PAGES:
WATER ACCESS FOR WATER-CHALLENGED GAMBIANS
COVID-19 HAND-WASHING STATIONS IN THE GAMBIA
WASH FOR DEVELOPMENT VIA NONPROFIT PARTNERSHIPS
There is still great need for water access in rural The Gambia. So PLEASE DONATE TODAY USING THE BUTTON BELOW.