Water Charity's Appropriate Projects Initiative 2014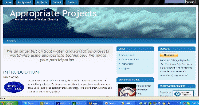 Our Appropriate Projects initiative enables instant deployment of resources to do small but critical water and sanitation projects. Check out the right column of this page for a list of projects that have been implemented to date in 60 countries around the world.
While continuing with our successful model of developing and carrying out projects of all sizes, we realize that there is a great need to do some projects without delay. Appropriate Projects cuts the process down to its bare bones.
Appropriate Projects offers the public the opportunity to Adopt a Project in its entirety or to make a donation for a project in any amount. If a donor funds an entire project he is given naming rights. A person could, for example, designate a project "in honor of" or "in memory of" another individual.
Please visit the Appropriate Website at http://appropriate projects.com, and click on the Projects tab to see current projects in need of funding.